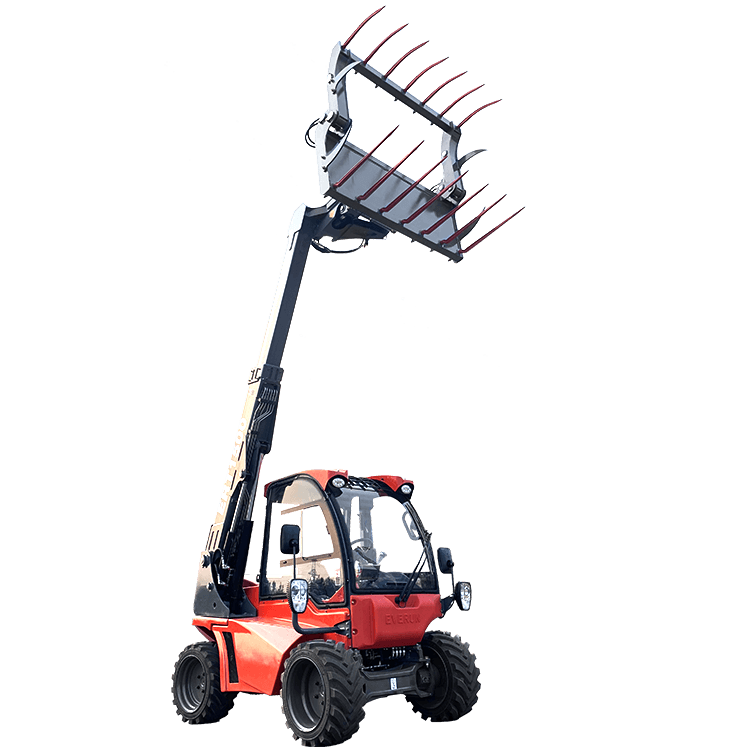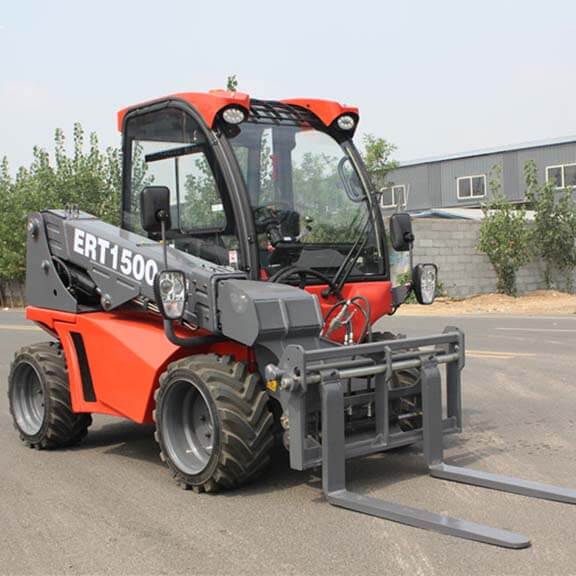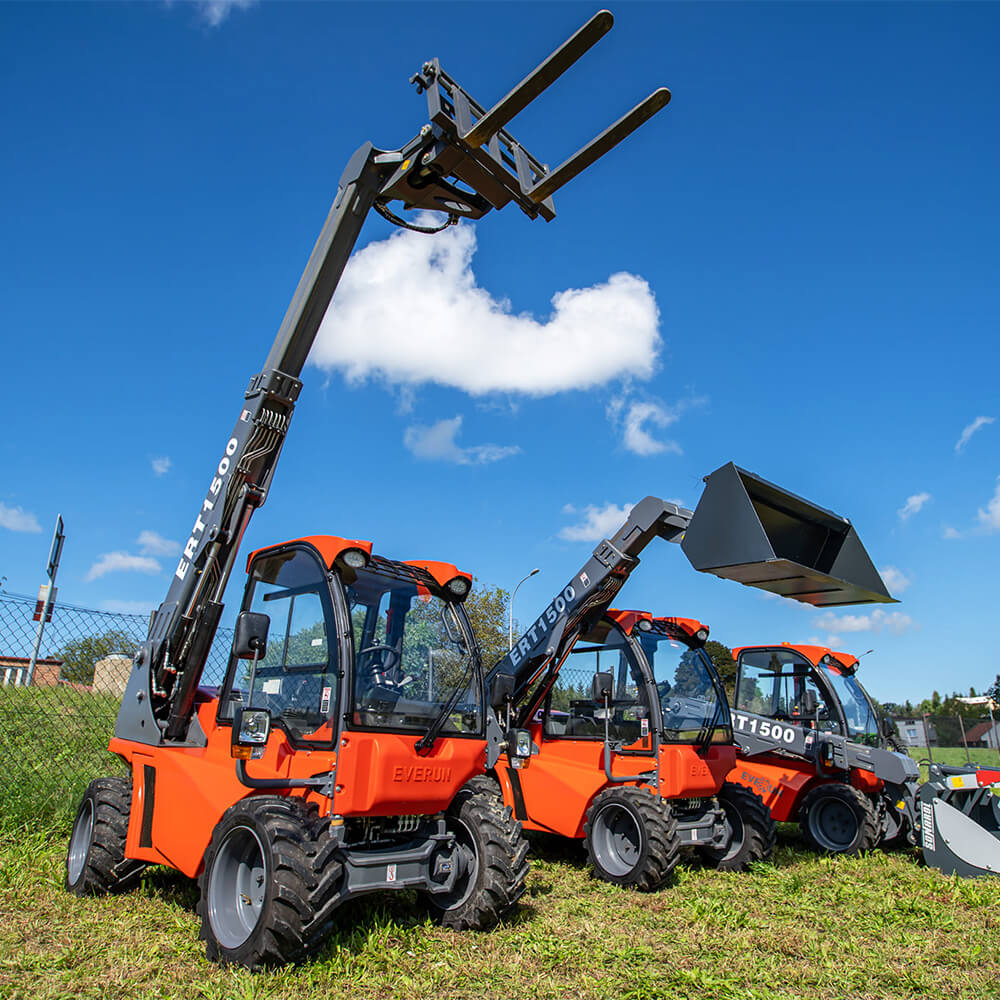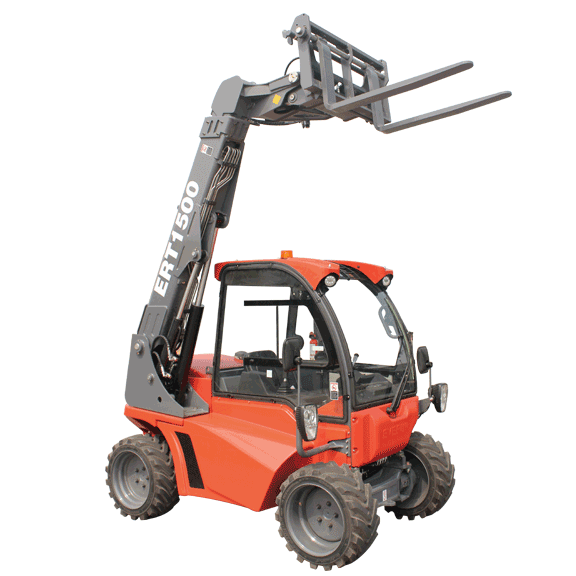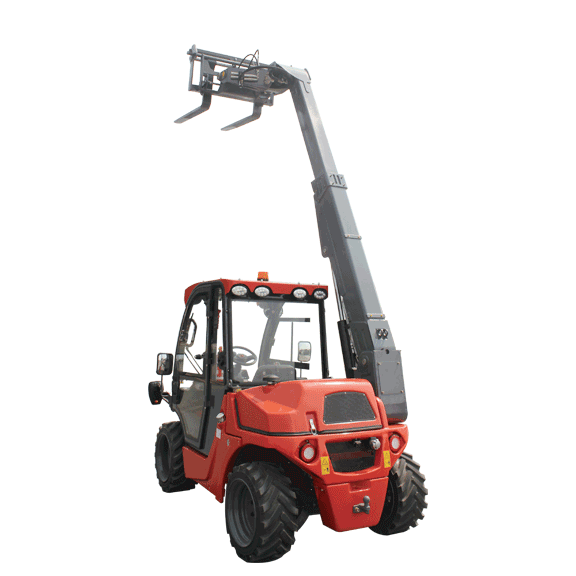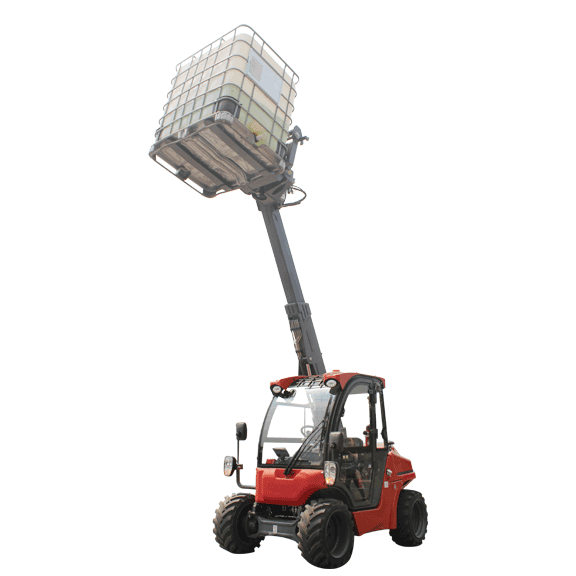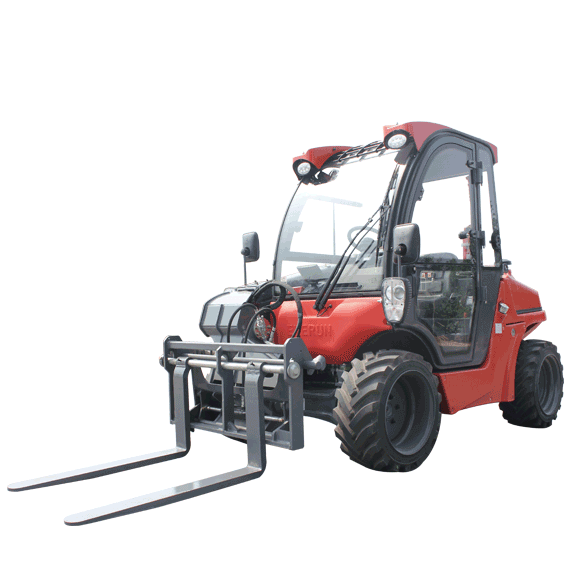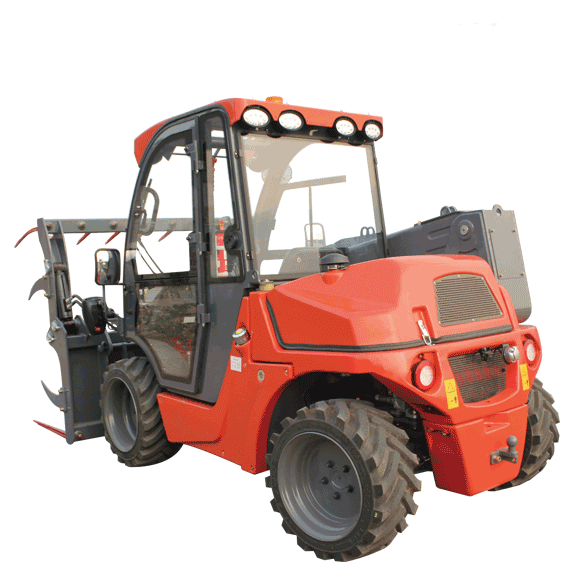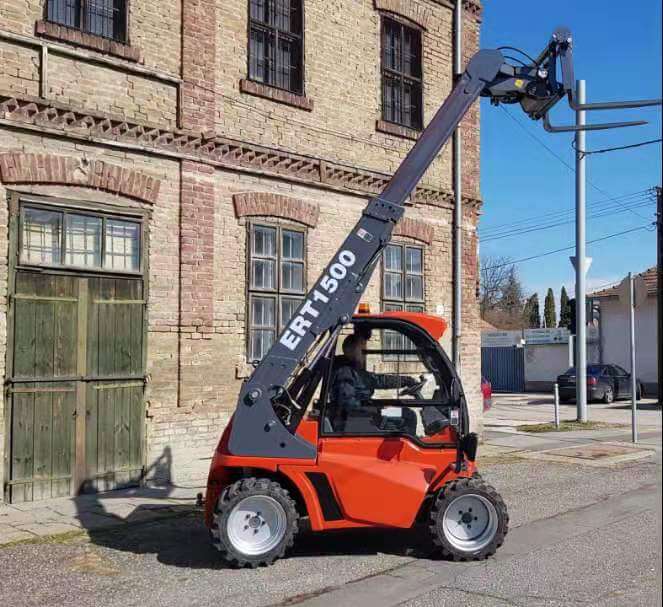 Mini Telehandler—ERT1500
1. Italy hydrostatic transmission system.
2. Differential lock function, which can distribute oil evenly to 4 wheels.
3. Rear wheels steering, the turning radius is smaller.
4. Four-wheel drive, suitable for more terrain.
5. The vehicle is small in size and more flexible.
6. Designed by Italian designer, with novel appearance strong streamline.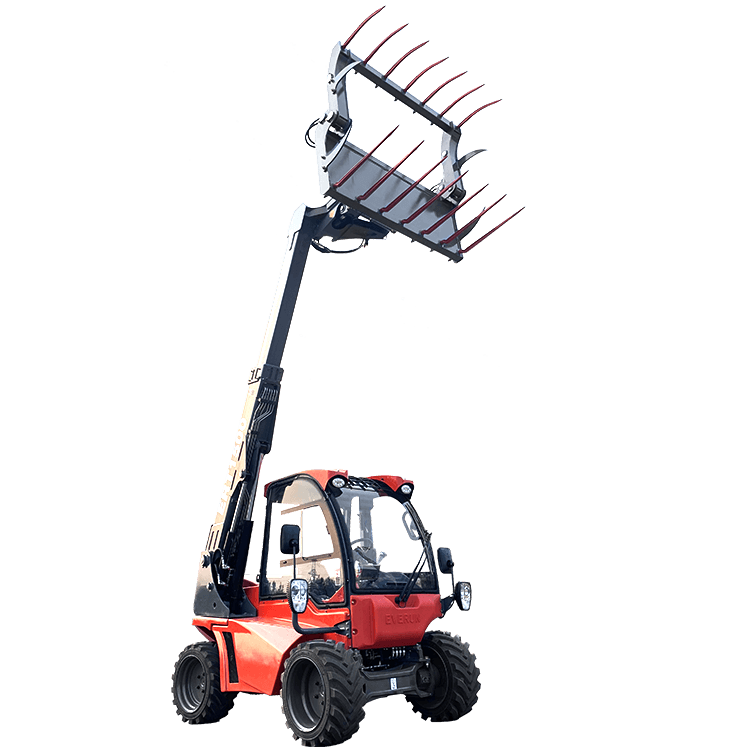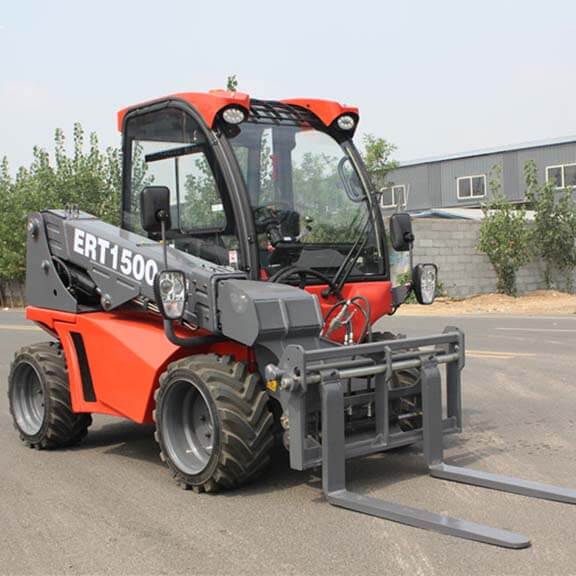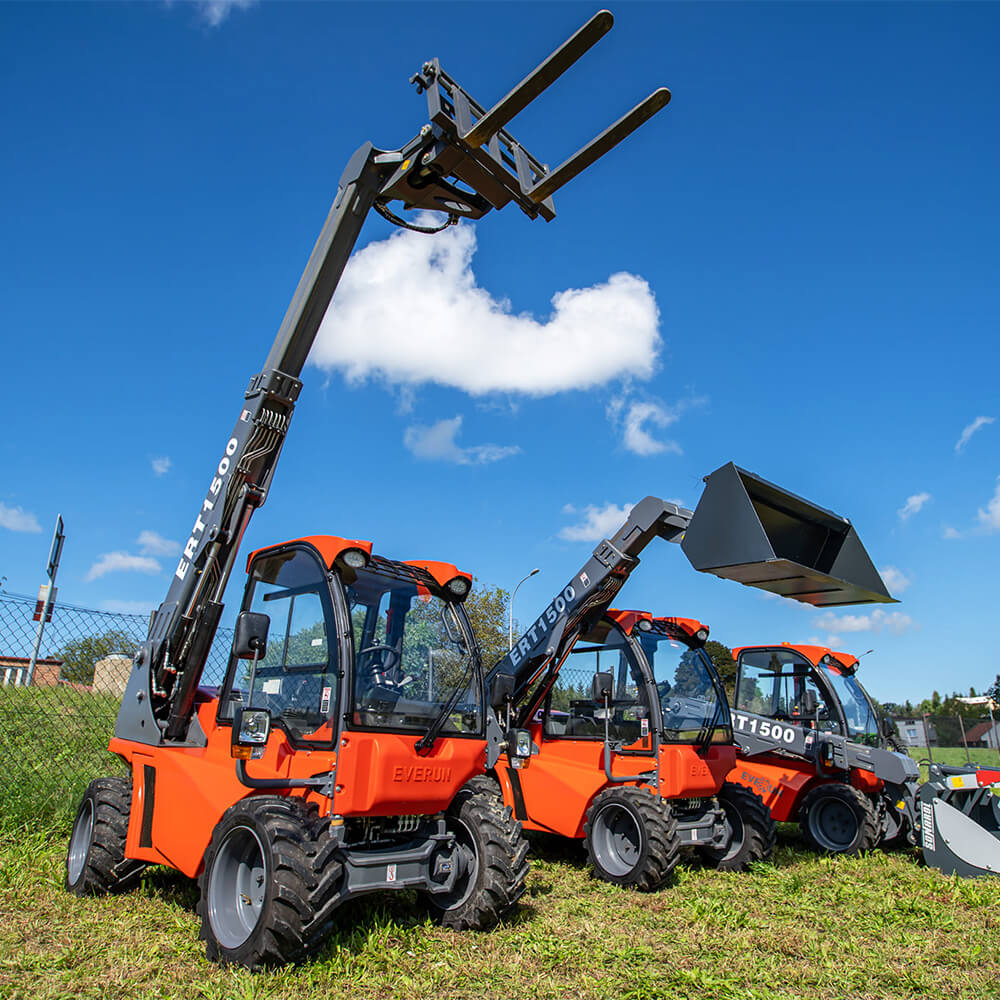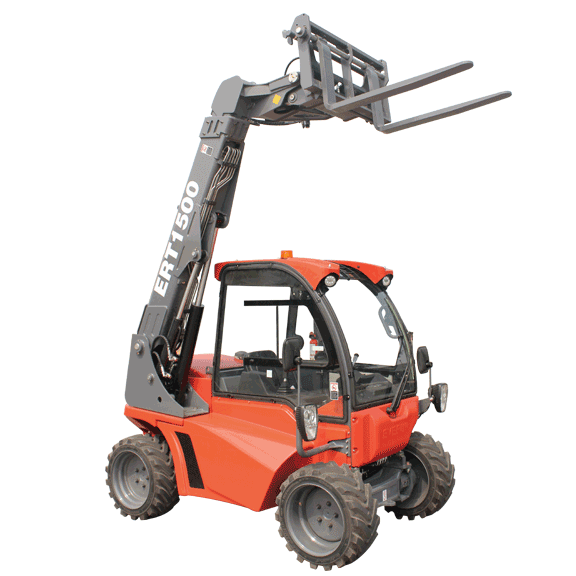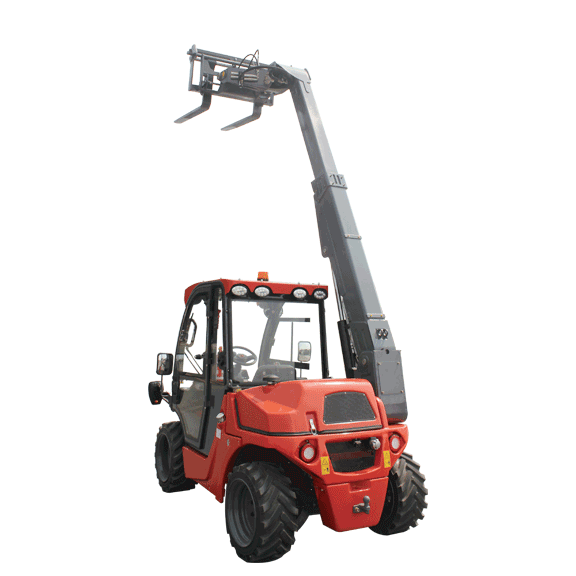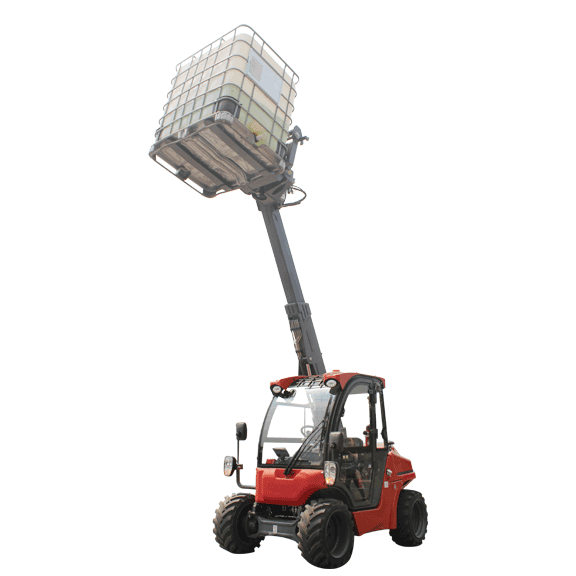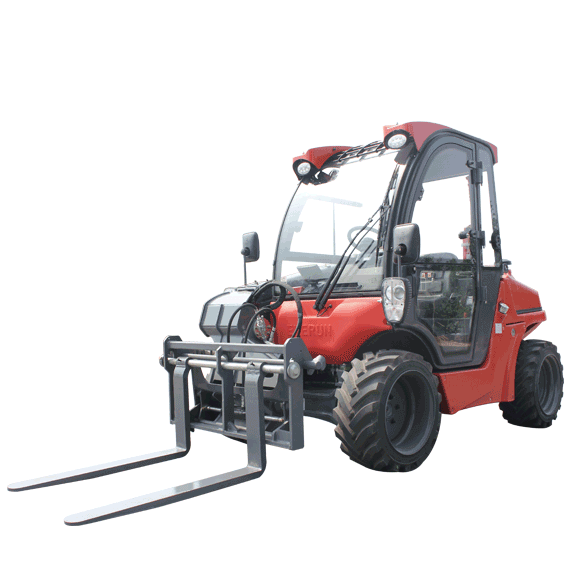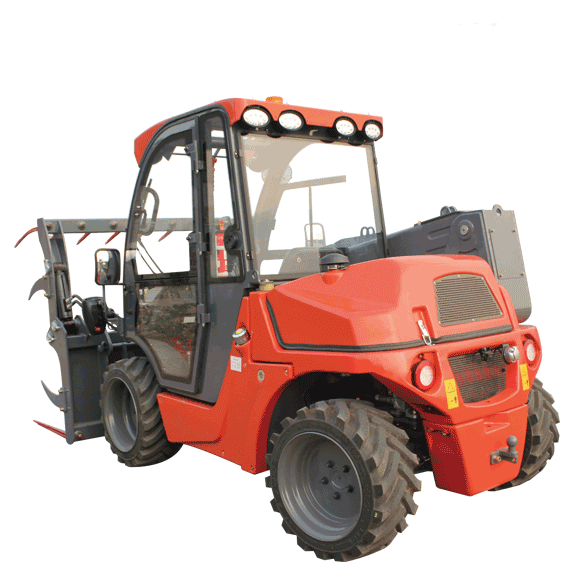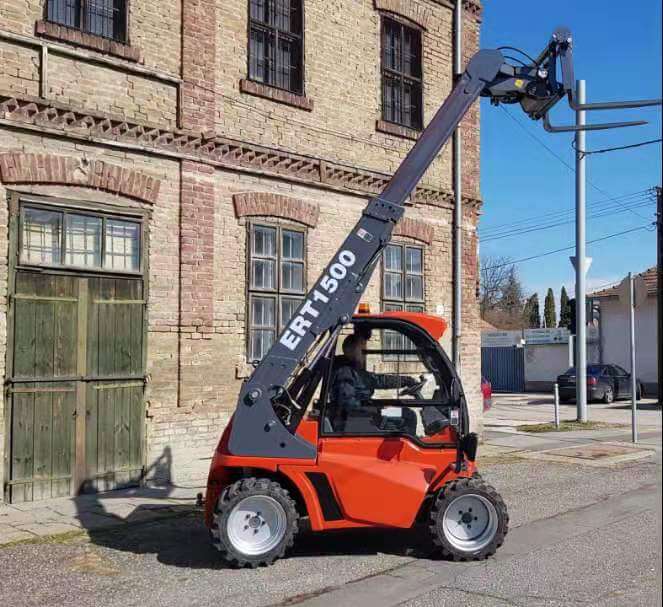 Specifications
Rated Power
18.4kW
Operating Weight
2800kg
Standard Bucket Capacity
0.3m³
Descriptions
·Italy hydrostatic transmission system.
·Differential lock function, which can distribute oil evenly to 4 wheels.
·Rear wheels steering, the turning radius is smaller.
·Four-wheel drive, suitable for more terrain.
·The vehicle is small in size and more flexible.
·Designed by Italian designer, with novel appearance strong streamline.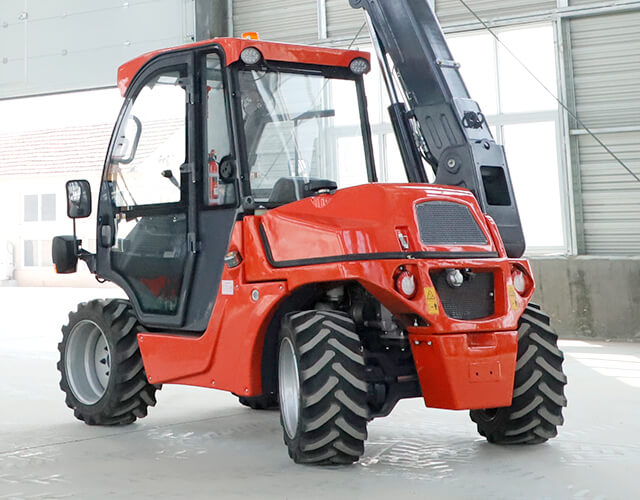 1. Rear-wheel steering, low centre of gravity and excellent stability
Thanks to the rear-wheel steering and the undivided chassis, Everun telehandlers are particularly manoeuvrable and very stable. The low centre of gravity of the machine supports the stability even more.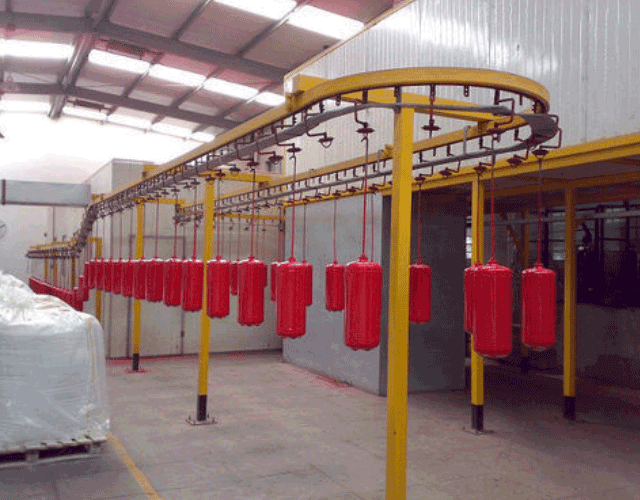 2.High quality powder coating
Quality creates added value. The powder coating is a key feature of the Everun quality standard. In contrast to the conventional wet painting, it greatly increases the service life and is more efficient and also environmentally friendly in the process.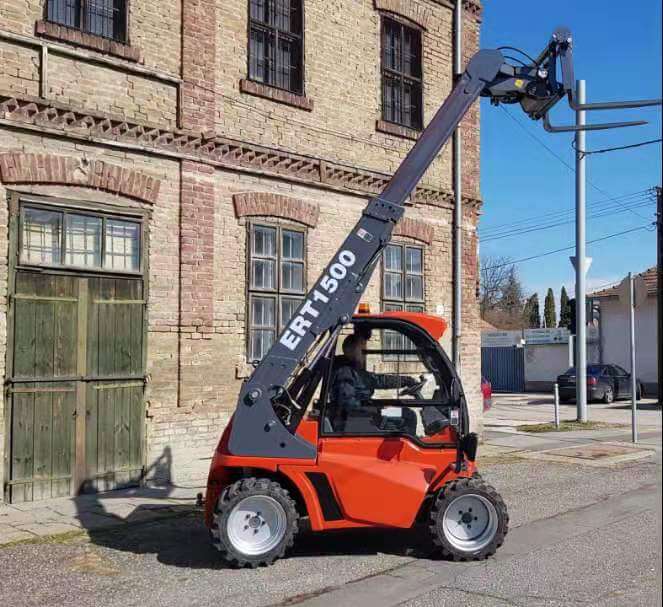 3.Sturdy telescopic arm and enormous lift height
The telescopic arm is designed to be sturdy and stable and is placed on the side of the machine. The parallel motion takes place hydraulically. The sliding components in the inner pipe of the telescopic arm are maintenance free. All important hydraulic lines are well protected against external influences. With our compact ERT1500, you reach amazing lift heights with the best stability and compact dimensions.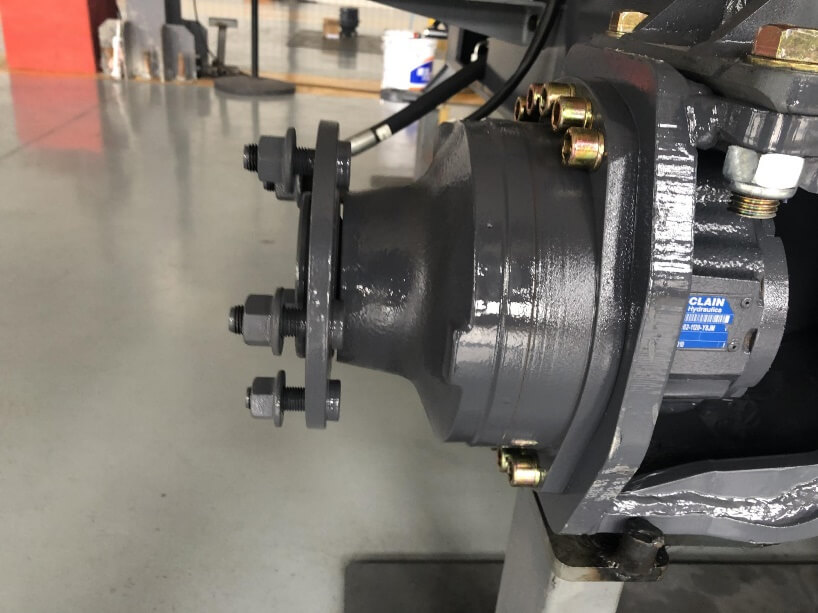 4.Poclain driving motors
The Poclain driving motors driving has Dual speed, built in parking brake for safety. High efficiency plunger motor large transmission torque. Long service life and low failure rate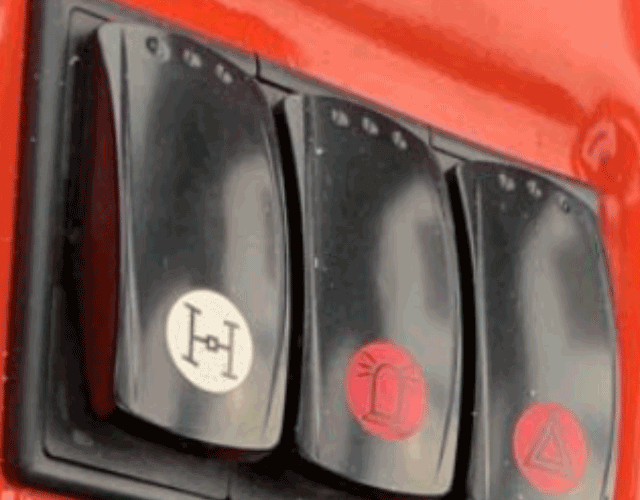 5.Differential lock
The oil from the pump to the 4 driving motors is distributed freely in normal working condition. When slippery, press the differential lock button that the 4 driving motors can get the same amount of oil to force an independent power to get the machine out of trouble.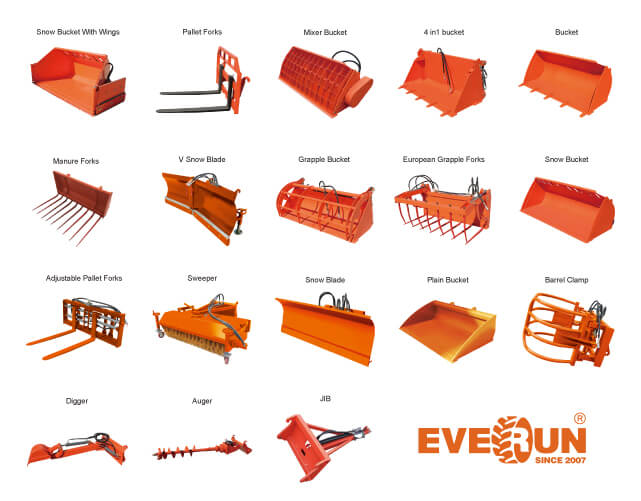 6.Large selection of attachment tools
Use your machine as a multi-tool - you have a wide selection of attachments available for model ERT1500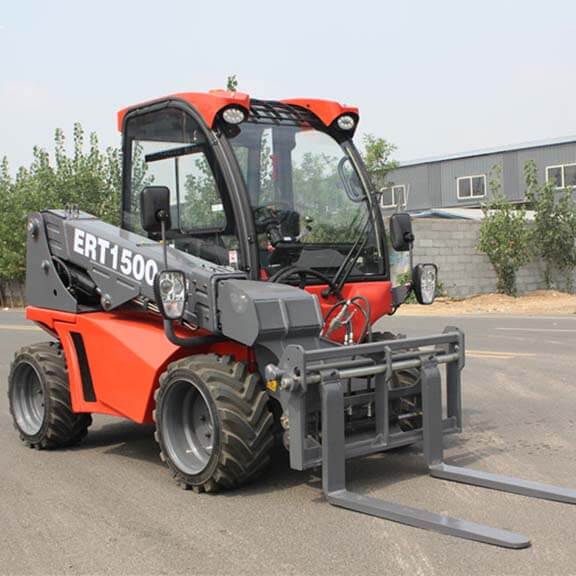 7.Compact dimension and weight
ERT1500 is built extremely compactly. The width and height of all machines is less than 2 meters. That is why our telehandlers are also ideal for use in confined spaces.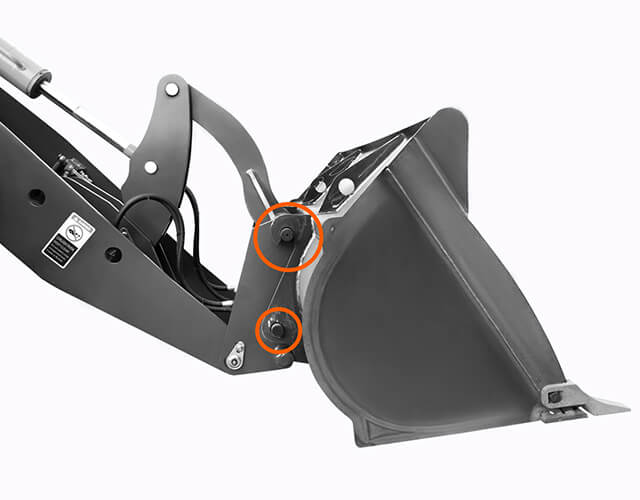 8.Quick and easy tool change
Thanks to the hydraulic quick-change system, attachments can be easily and conveniently exchanged. In this way, your machine is again ready for application at once. This increases productivity and raises efficiency. The exchange of the tool takes place through 2-hand operation, which makes an unwanted change impossible - safety always comes first at Everun!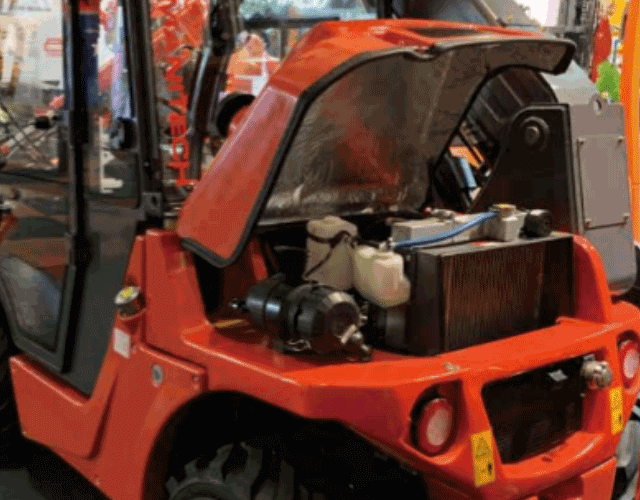 9.Easy-to-open engine hood
The engine hood can be opened easily and removed in a few hand movements for regular service and maintenance work. The hydraulic oil tank, air cleaner, engine oil fill opening, oil dipstick and cooling water are therefore quickly and easily accessible - real added comfort.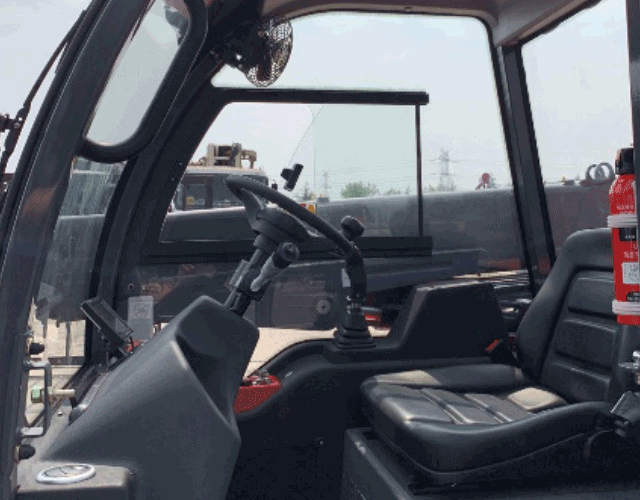 10.Comfortable cabin and good circumferential visibility
The spacious cabin meets the current European machinery directive according to ROPS and FOPS protection and offers plenty of headroom and elbow room. The complete glazing provides the operator with an excellent circumferential visibility the entyre working area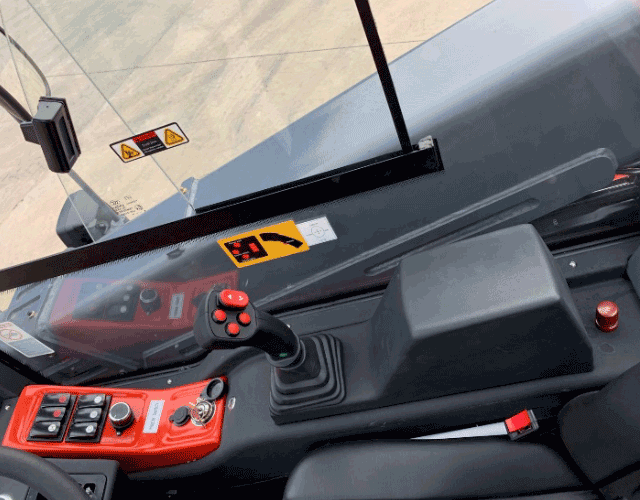 11 Ergonomic cockpit
More spaciousness in a cab that was designed and developed according to the latest findings in safety technology and ergonomics. Plenty of legroom, clearly arranged instrument clusters, a comfortable driver's seat and an optimal view of the attachment. A workplace that motivates and fully supports the operator.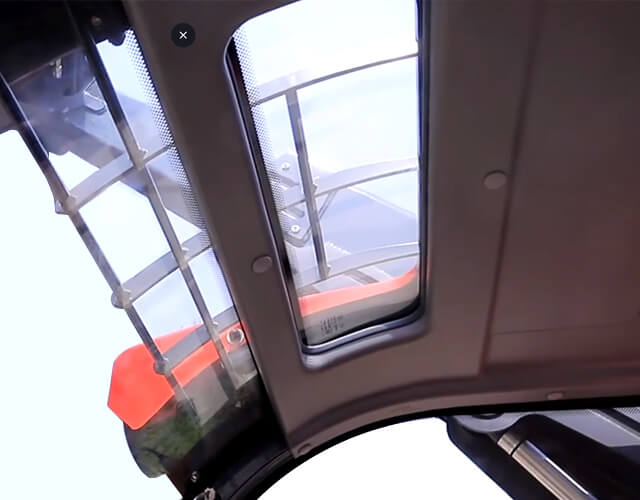 12.Good view of the freight
A telehandler's advantages come into play when it comes to stacking the freight high. The view upward is also crucial in order to securely place the load at a great height. With ERT1500, the cabin and pane are designed so that the operator always has the freight in view, even at maximum lift height.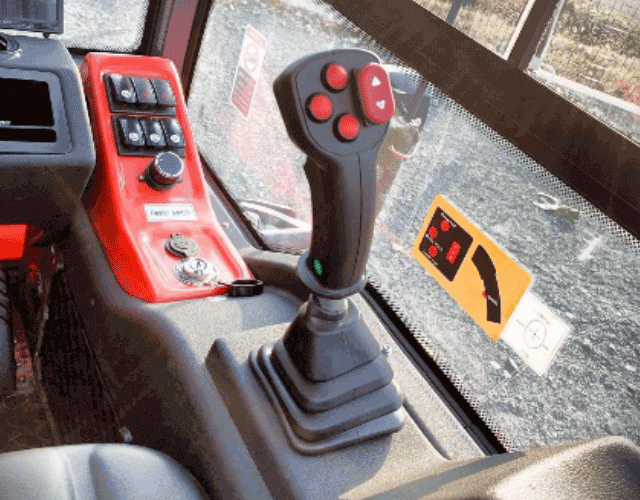 13.Ergonomic joystick
The joystick lies securely and comfortably in your hand. The control is sturdy and sensitive at the same time. You therefore always have the machine and the key functions under control.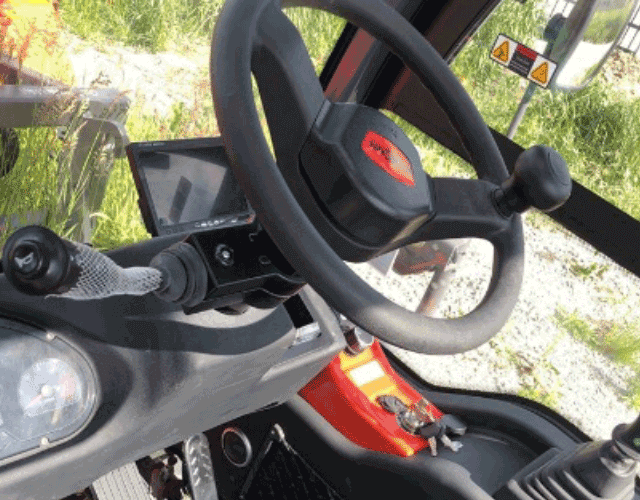 14.Inching
The hydrostatic all-wheel drive is combined with the brake pedal for ERT1500 By "inching," this makes it possible to crawl until the travelling operation comes to a standstill. With the partially depressed brake-inch pedal , you can drive slowly in crawl speed at full engine speed precisely to the millimetre and at the same time lift quickly. If the pedal is pressed further, the machine is braked. The advantage of the brake-inch pedal lies in the optimal power-output distribution of the engine rated power. In addition, it is not possible to stall the machine.
Technical Parameters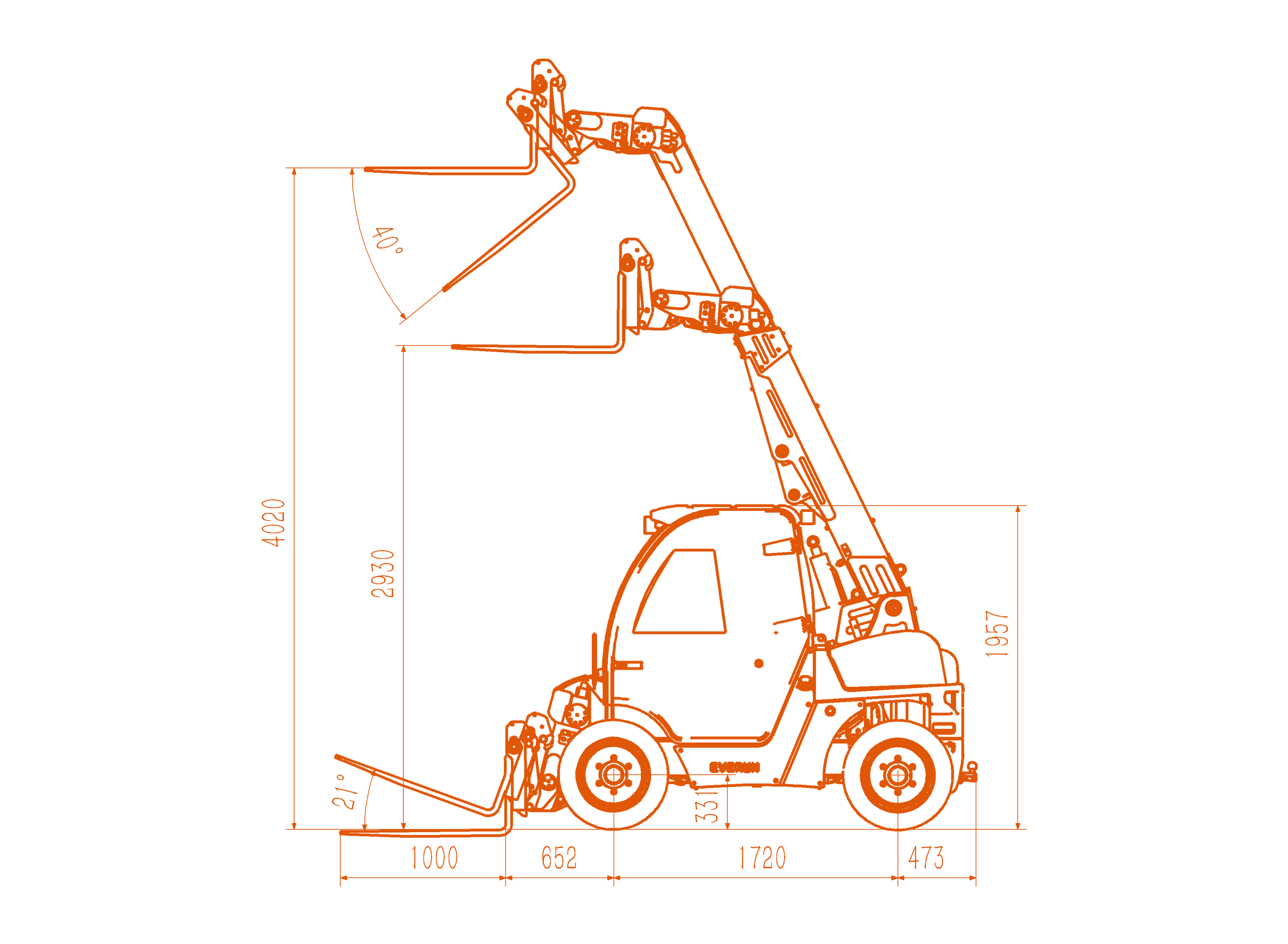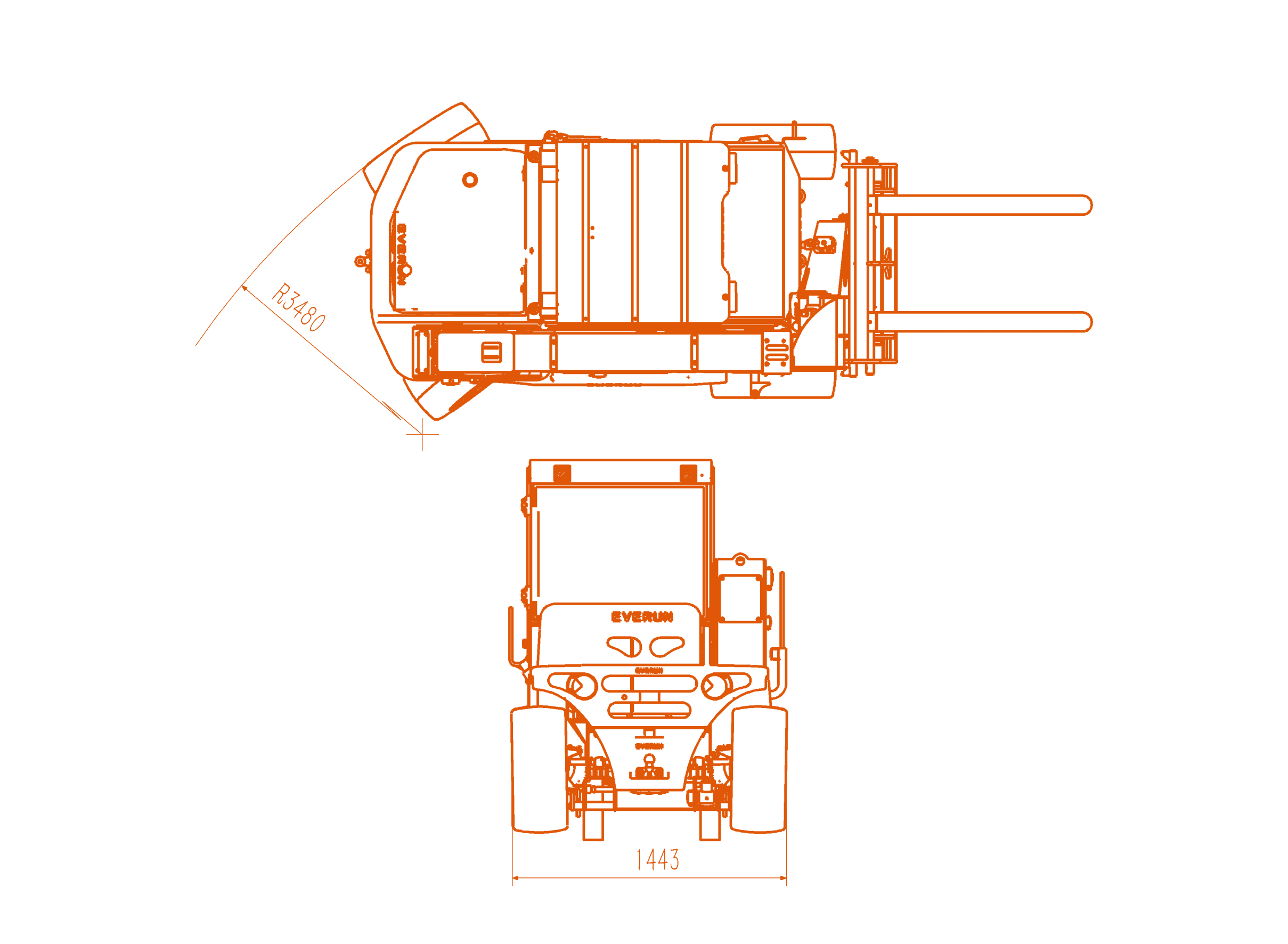 FEATURE
SIZE / DETAILS
| | |
| --- | --- |
| Term No. | ERT1500 |
| Engine Model | Perkins EURO 5 Engine |
| Engine Rated Power | 18.4kW |
| Rated Speed | 2200r/min |
| Fuel Consumption Ration | 230g/kW·h |
| Transmission System | Hydraulic Motor + 4 Wheel Drive Motors |
| Bucket Capacity | 0.3m³ |
| Bucket Width | 1588mm |
| Rated Load | 1400kg Including Attachment |
| Overall Length(bucket on ground) | 3350mm |
| Tyre | 26*12-16.5 |
| Overall Height | 1955mm |
| Overall Width | 1588mm |
| Steering System | Rear Axle With Hydraulic Power steering |
| Driving System | Hydraulic Motor, Four Wheel Drive |
| Net Weight | 2800kg |
| Max. Driving Speed | 18km/h |
| Wheelbase | 1720mm |
| Service Brake | Hydraulic Oil Cutting-Off Brake |
| Parking Brake | Electrical Parking Brake |

Get Your FREE Quote
We will contact you within 24 hours.