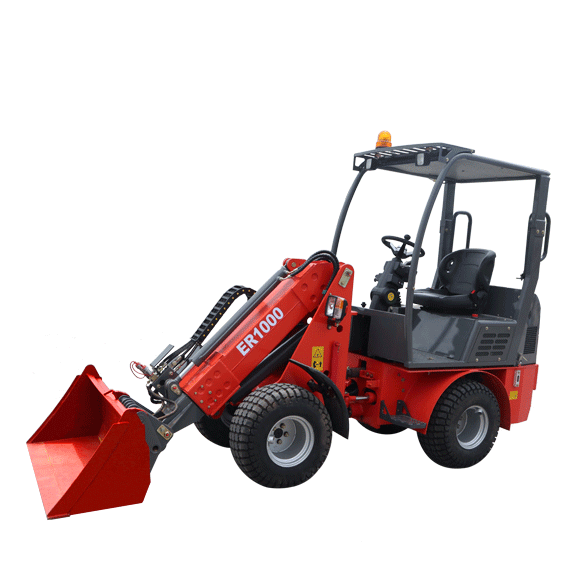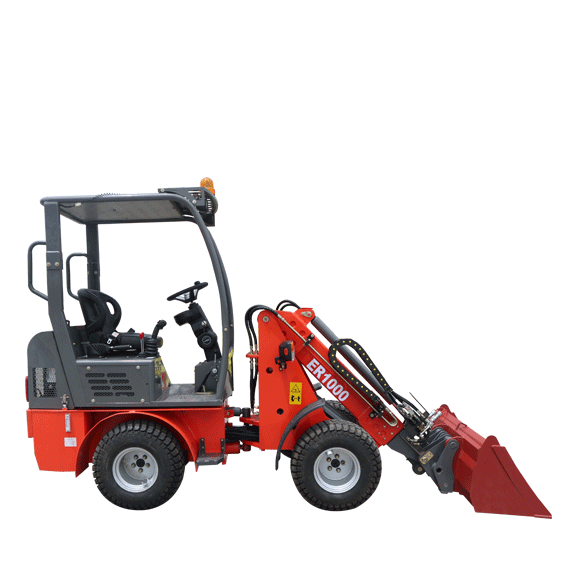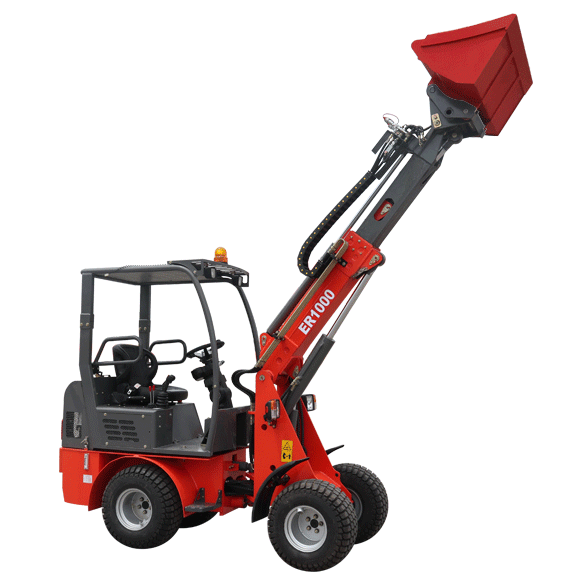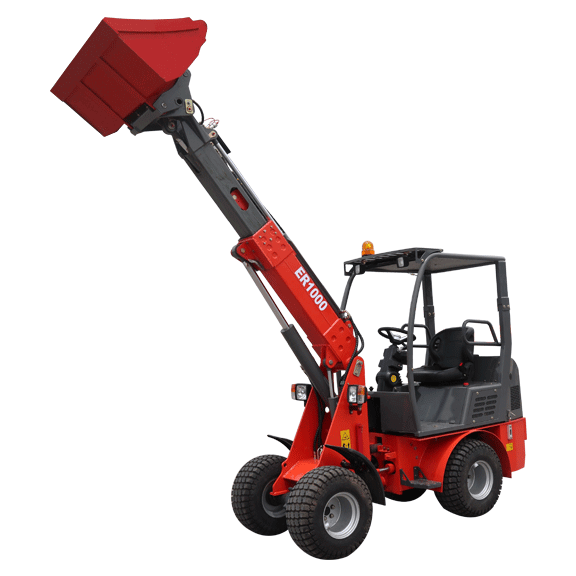 Telescopic Wheel Loader—ER1000
ER1000 is a mini telescopic loader with 3500mm lifting height. Due to its compactness, it is perfectly suited to prevail where there are space constraints. It can be driven on the foot path without a problem because it only has a width of 1.26 m.
It is even possible to transport the machine on a car trailer thanks to its low dead weight. The carefully chosen components make this machine extremely reliable, which in addition, is equipped with a ROPS/FOPS approved safety roof.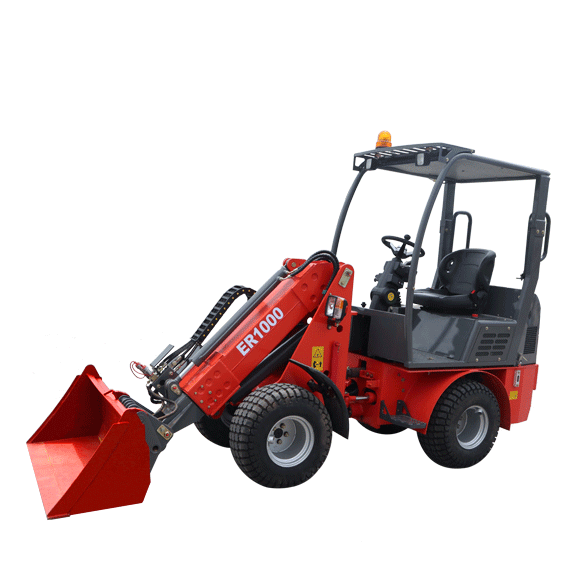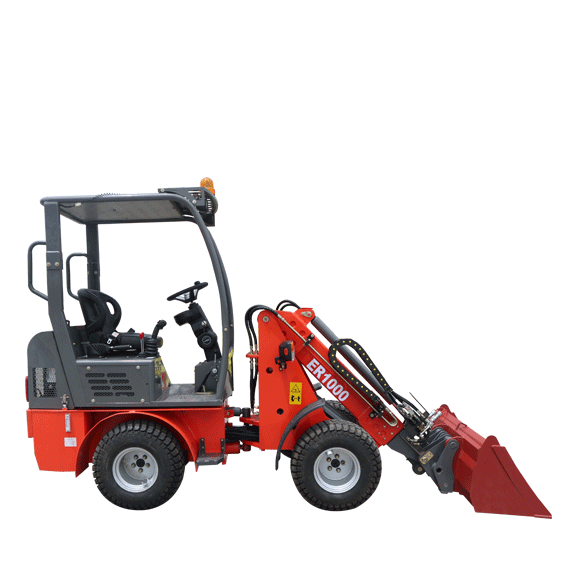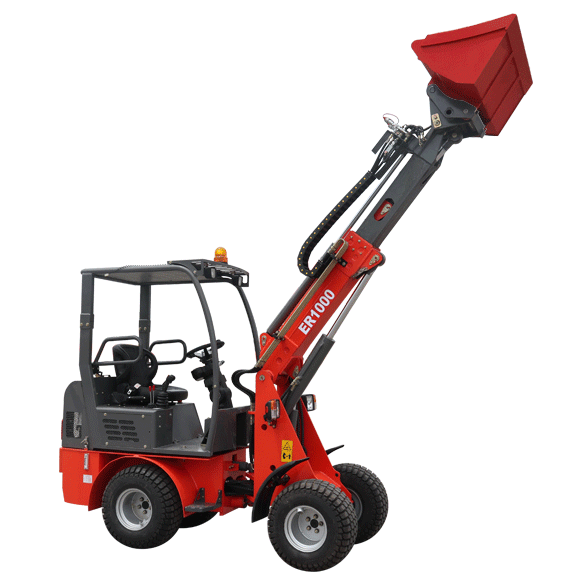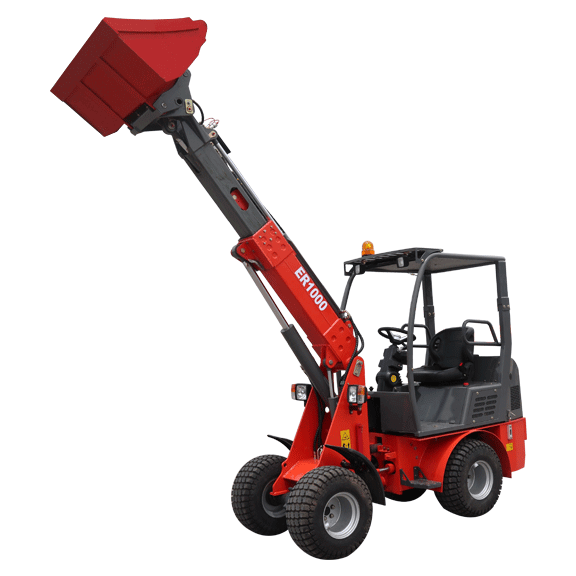 Specifications
Rated Load
900kg
Bucket Capacity
0.3m³
Digging Deep
65mm
Descriptions
At Everun, LP stands for "Low Position". Thanks to the lower operator's standing and sitting position, the machine has a lower overall height. It can readily travel through narrow passages. It also allows the operator easy entry and shifts the centre of gravity towards the ground.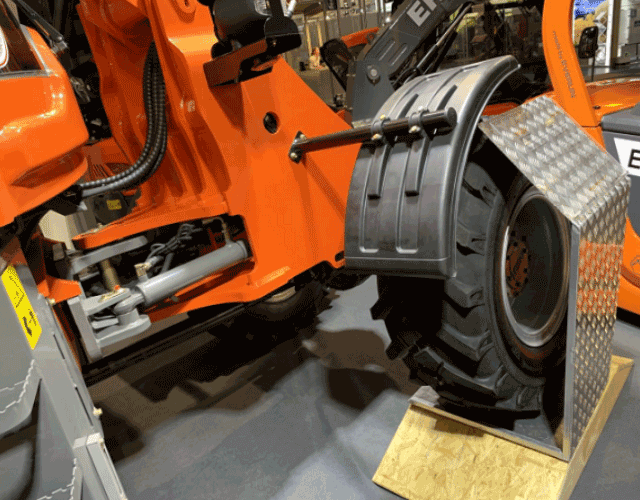 1- Everun articulated oscillating floating joint
The backbone of the Everun ER4 design: The legendary articulated oscillating floating joint. All four wheels remain in constant contact with the ground and the machine moves with maximum traction. In addition, the machine has unrivalled manoeuvrability.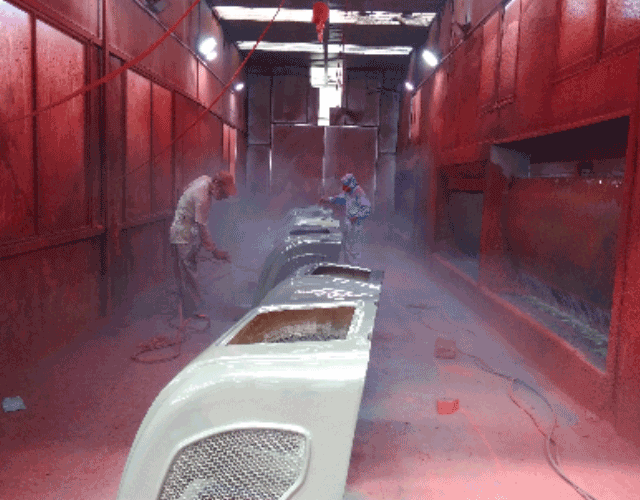 2- High quality powder coating
Quality creates added value. The powder coating is a key feature of the Everun quality standard. In contrast to the conventional wet painting, it greatly increases the service life and is more efficient and also environmentally friendly in the process.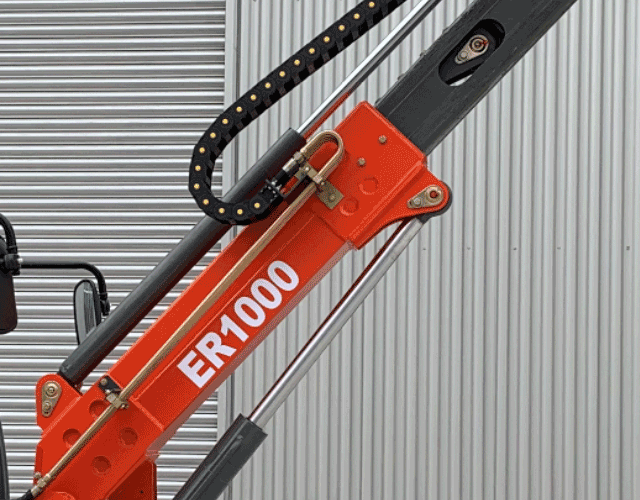 3- One bigger and stronger lift cylinder
Everun always installs strong lift cylinder in all ER4 series wheel loader models. This guarantees that the load distribution is always optimally transferred to the loading arm. In addition, the entire loading system gains stability. The size of the lift cylinder is adapted to the respective size of the machine.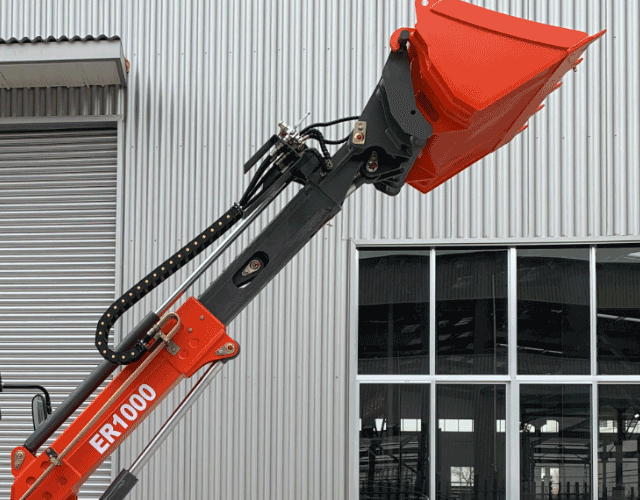 4- Sturdy telescopic arm
The telescopic boom is built to be sturdy and stable. The parallel motion takes place hydraulically. All important hydraulic lines are inside and are protected against external influences. The telescopic boom for Everun wheel loaders combines the advantages of an articulated machine with those of a telehandler. High overhead loading heights are therefore not a problem.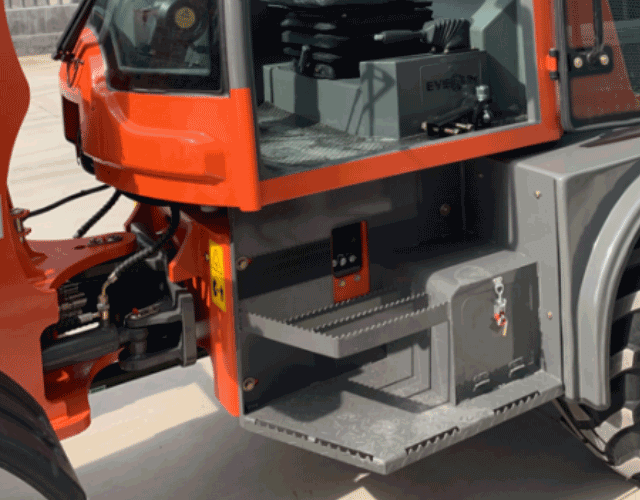 5- Stainless steel steering stops
At a full steering stop, the front and rear carriage of the machine touch. With Everun, this area is particularly well-protected by the stainless steel steering stops and there is no corrosion. This provides for value preservation!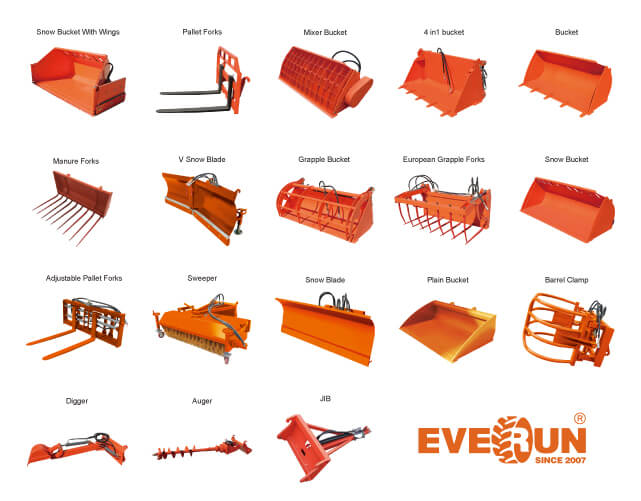 6- Large selection of attachments
Use your machine as a multi-tool: you have a wide selection of attachments available for your Everun machine.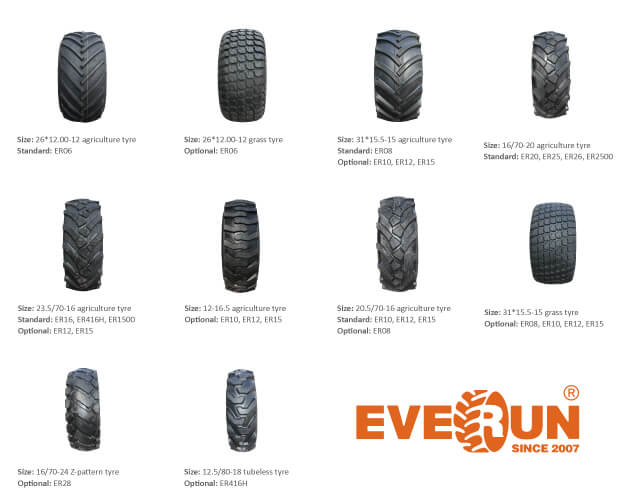 7- Large selection of tyres
The optimal tyres for every subgrade: you have a wide selection of different tyres available for your Everun machine.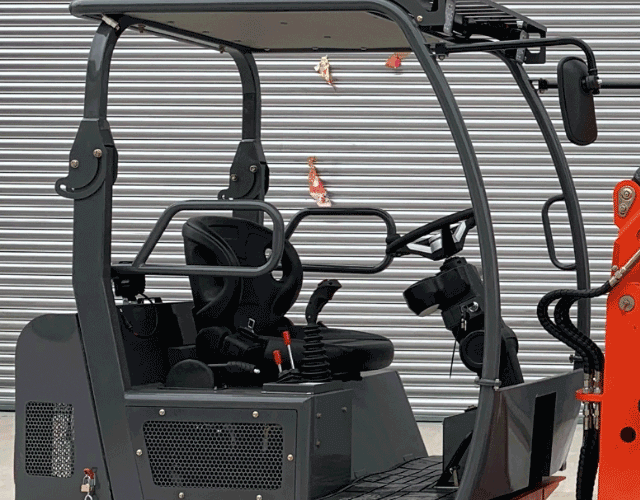 8- Secure canopy with restraint system
Maximum safety that is state of the art. As a standard, Everun installs a canopy with a restraint system on mini models. The canopy and the restraint system for the operator meet the ROPS and FOPS protection.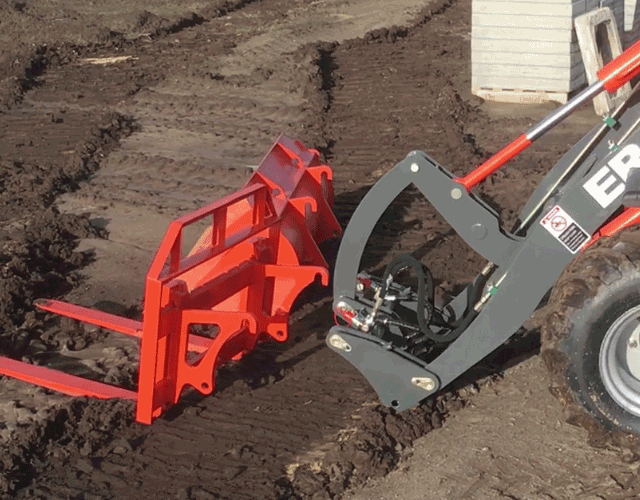 9-Quick and easy tool change
Thanks to the hydraulic quick-change system, attachments can be easily and conveniently exchanged. In this way, your machine is again ready for application at once. This increases productivity and profitability. The exchange of the tool takes place through 2-hand operation, which makes an unwanted change impossible — safety always comes first at Everun!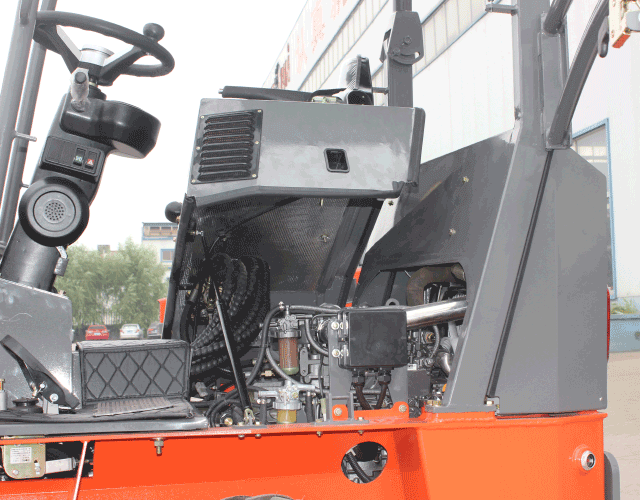 10- Good maintenance accessibility
There is service hole inside the cabin, and the engine hood can be opened backward widely. This makes the engine, hydraulic system and electrical system easily accessible for our ER4 series models.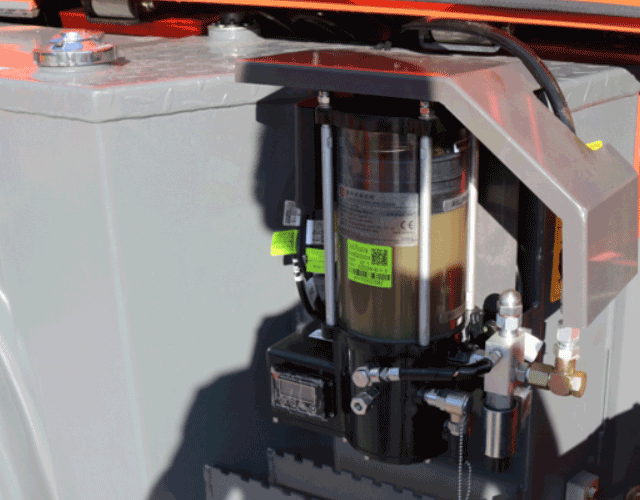 11- Easily accessible lubrication points
Regularly greasing all lubrication points of the machine is crucial for the proper and effective maintenance and therefore value retention of the machine. In order to save time and facilitate the work, the lubrication service points are always in an easily accessible position at Everun. Optionally, a central lubrication system is available that takes over the lubrication for you.
12- Short hydraulic hose lengths
Everun machines have short hydraulic hose lengths; the hoses are split in several places. If a hydraulic hose needs to be exchanged, the entire hose in the hydraulic circuit does not need to be exchanged, but rather just the affected part. This speeds up work enormously and saves money.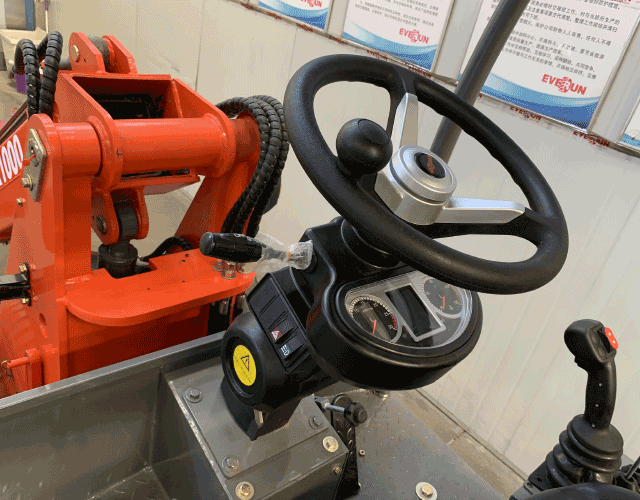 13- Adjustable steering column
The steering column can be individually adjusted according to the operator's request. This ensures that every operator can work with the machine ergonomically and fatigue-free.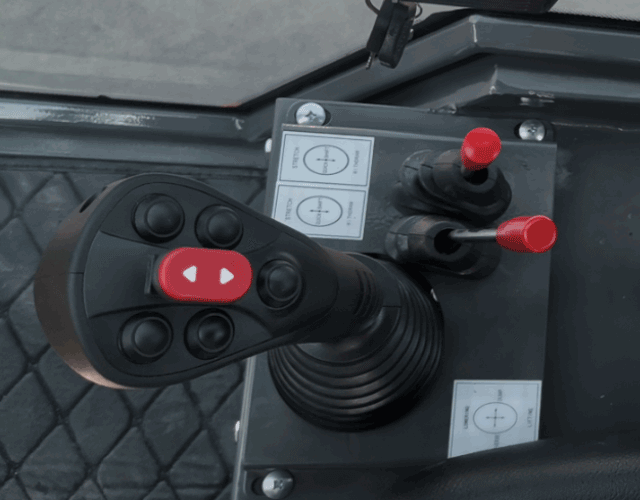 14- Ergonomic joystick
The joystick lies securely and comfortably in your hand. The control is sturdy and sensitive at the same time. In this way, you always have the machine and its key functions under control.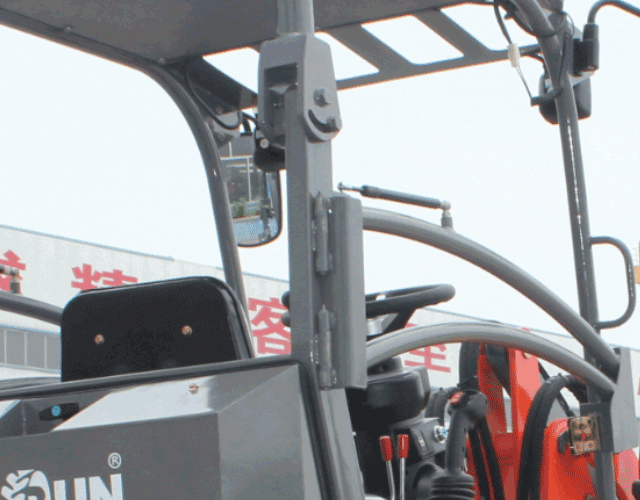 15- Good all-round visibility — ergonomic workplace
Plenty of legroom, clearly arranged instrument clusters, a comfortable operator's seat and an optimal visibility of the attachment. A working area that motivates and fully supports the operator.
Technical Parameters
FEATURE
SIZE / DETAILS
| | |
| --- | --- |
| Term No. | ER1000 |
| Rated Load | 900kg |
| Bucket Capacity | 0.3m³ |
| Lifting Height of Main Boom | 2959mm |
| Dumping Height of Main Boom( Dumping Angle 45°) | 2051mm |
| Dumping Reach of Main Boom | 587mm |
| Max. Loading Capacity of Main Boom | 1000kg |
| Lifting height of small boom | 3526mm |
| Dumping Height of Small Boom(Dumping Angle 45°) | 2618mm |
| Dumping Reach of Small Boom | 1085mm |
| Max. Loding Capacity of Small Boom | 600kg |
| Max. Speed(F1/R1) | 12km/h |
| Max. Breakout Force | 15kN |
| Digging Deep | 65mm |
| Max. Gradeability | 25° |
| Max. Turning Angle | 35° |
| Overall length( Bucket on Ground Position) | 3820mm |
| Overall Width | 1260mm |
| Overall Height | 2310mm |
| Wheel Base | 1507mm |
| Tread | 890mm |
| Min. Ground Clearance | 220mm |
| Net Weight | 2100kg |
| Engine Model | Yanmar 3TNV88F-ESSY |
| Rated Power | 19.2kW |
| Rated Speed | 2200r/min |
| Max. Torque | 98.7N.m |
| Speed at Max. Torque | 1320r/min |
| Bore & Stroke | 88*90 |
| Rated Fuel Consumption | ≤230 |
| Driving | 4 wheel drive |
| Tire | 26*12-12 |
| Oil Flow | 30.36L/min |
| Working Pressure | 16MPa |

Get Your FREE Quote
We will contact you within 24 hours.