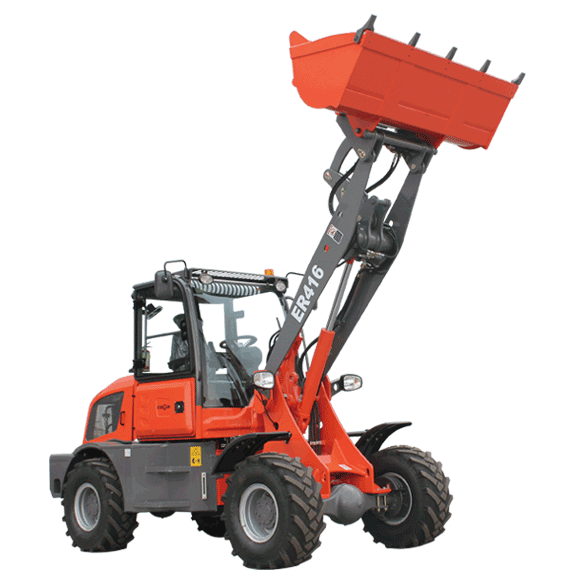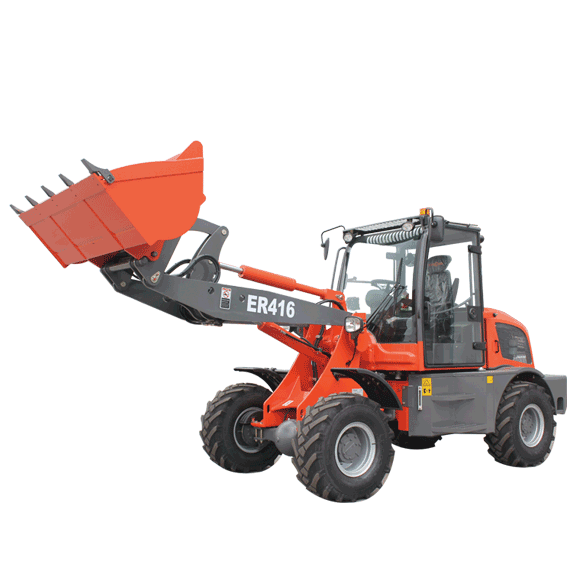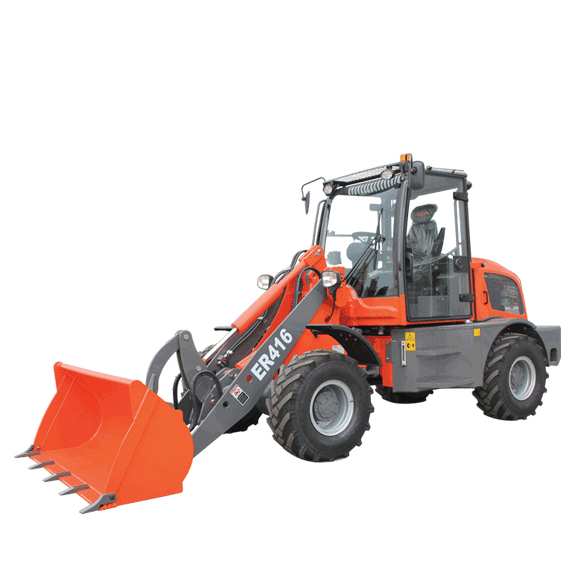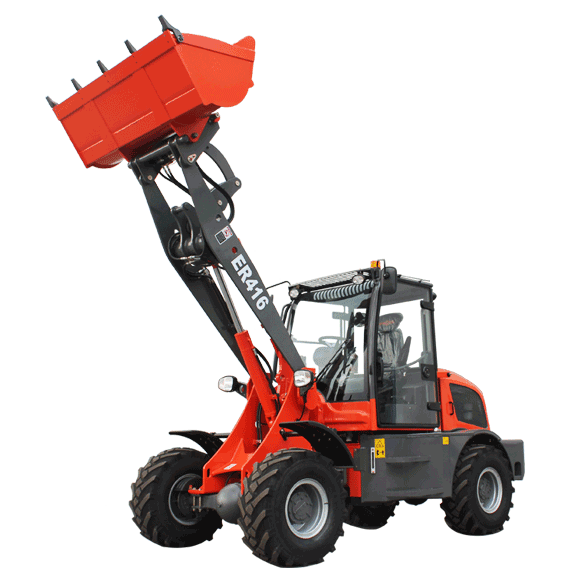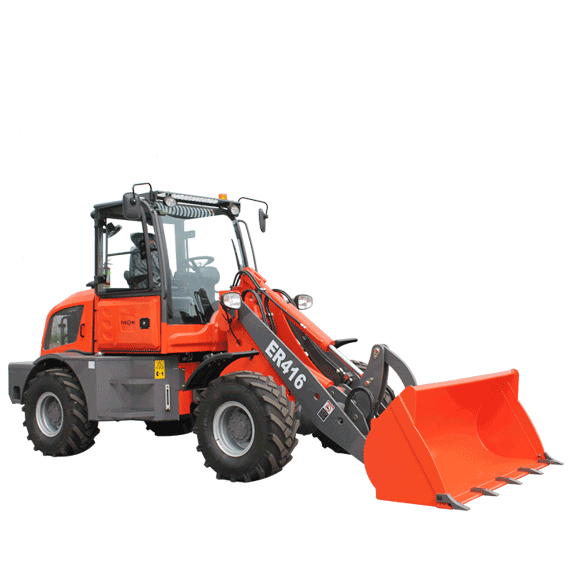 Medium Wheel Loaders—ER416
ER416 have Rops & Fops Cabin, XINCHIA 498BT1(Euro III Engine),Hydraulic
PressureCheck System, Parallel Linkage, 23.5/70-16 Agriculture Tyre and etc.
Thanks to the unique articulation , the machine can be applied to various complex road conditions and working conditions.
The machine have CE certificate and EPA, Euro5 engine option, especially suitable European, North American and Australian market. It's suitable for our customers, who working in agriculture, construction and industry area.
Everun's loaders increase your productivity for every job applicatio. In addition to possessing various functions, comfortable working environment and excellent safety protection, Everun's loader also has strong durability.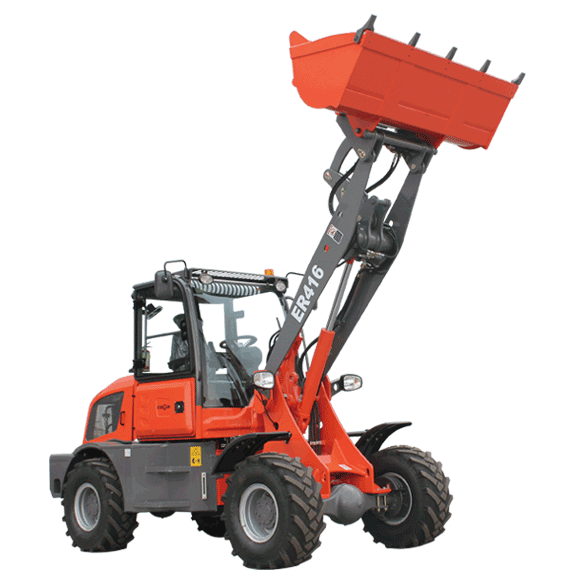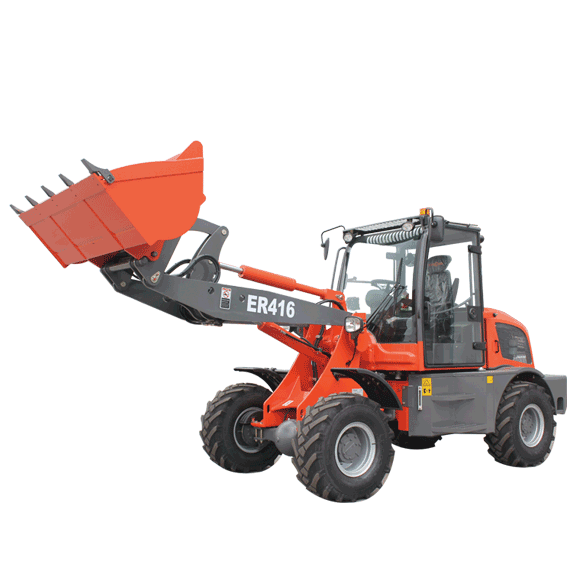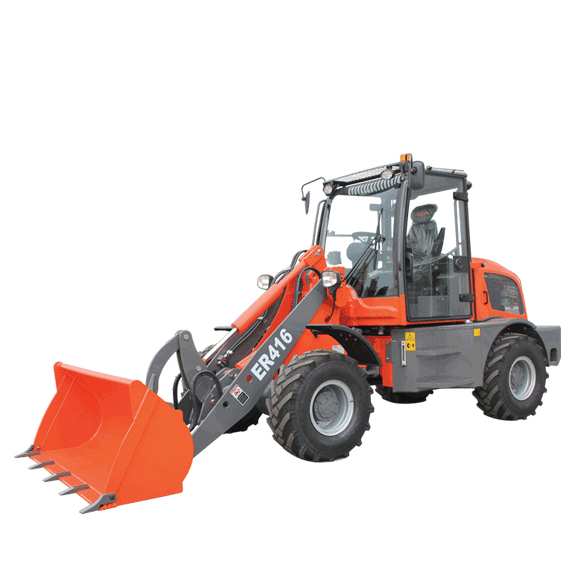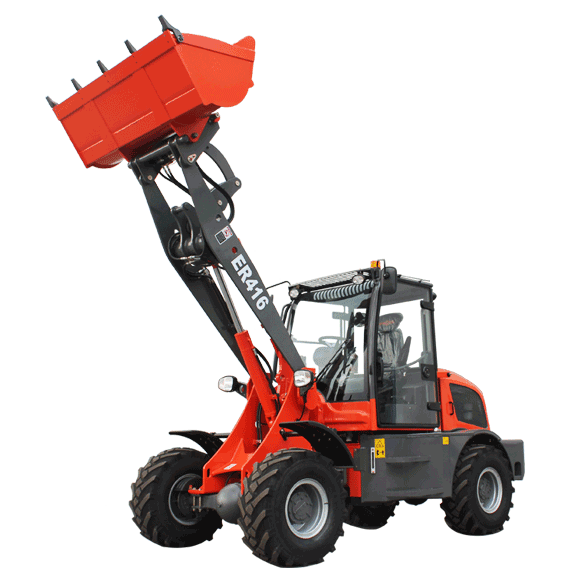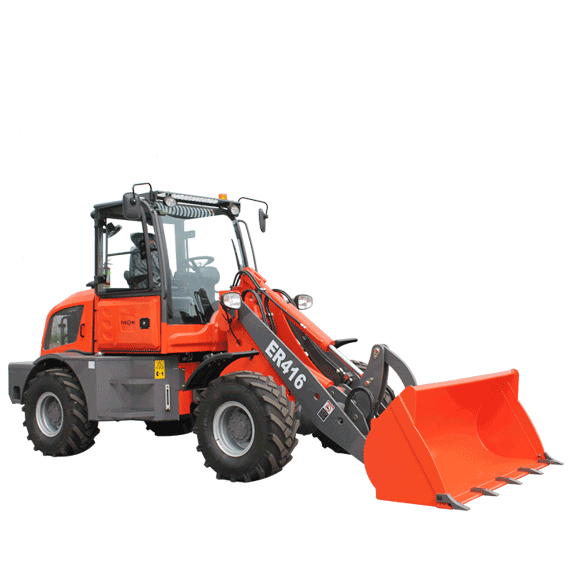 Specifications
Maximum Engine Power
36.8kW
Net Weight
4400kg
Standard Bucket Capacity
0.73m³
Descriptions
With 11 years wheel loader exporting experience and under the help of our own customer, Qingdao Everun Machinery Co., Ltd established in beautiful coastal city Qingdao enjoying convenient transportation access.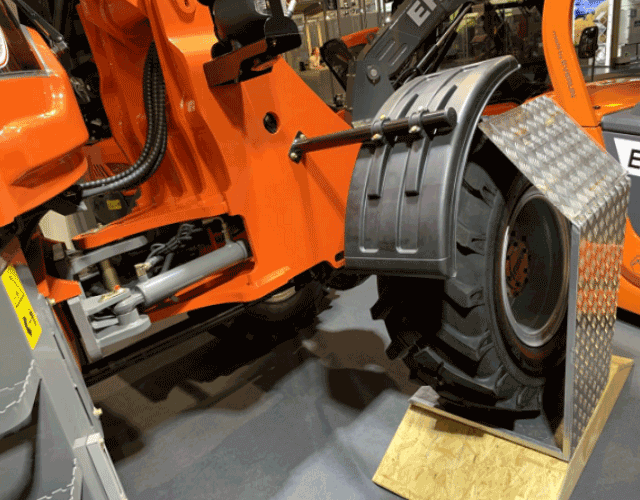 Everun articulated pendulum joint
The backbone of the Everun design. The legendary articulated pendulum joint. All four wheels are in constant contact with the ground and the machine moves with maximum traction. This also makes the machine uniquely manoeuvrable.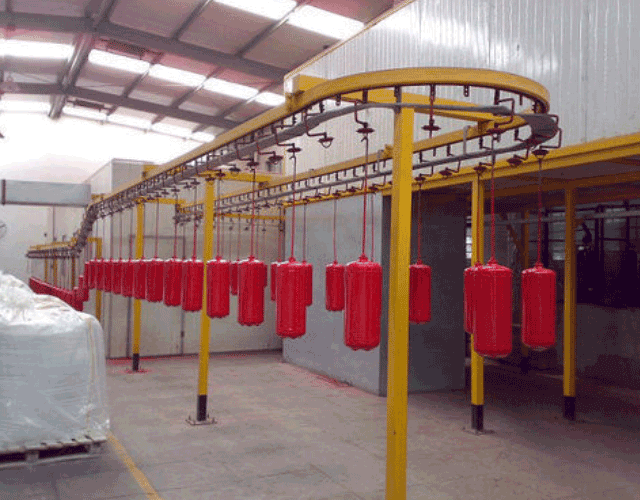 High quality powder coating
Quality creates added value. The powder coating is a key feature of the Everun quality standard. In contrast to the conventional wet painting, it greatly increases the service life and is more efficient and also environmentally friendly in the process.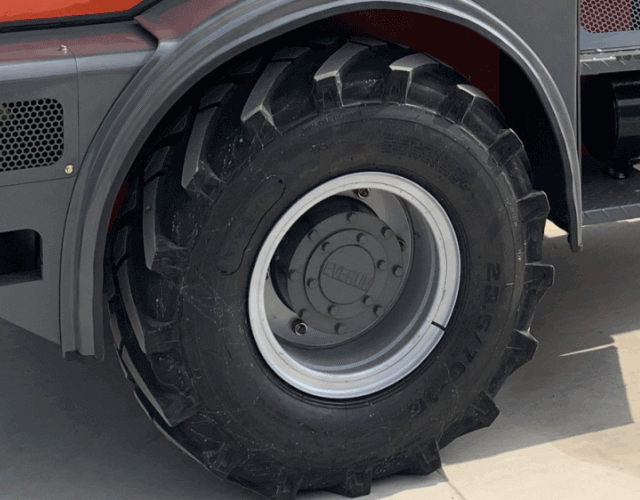 High shear forces from planetary axle
The drive via the planetary axle increases the torque on the wheel and thereby improves the shear force. Due to the optimal ratio between the shear force and machine capacity, you work flexibly and economically at the same time.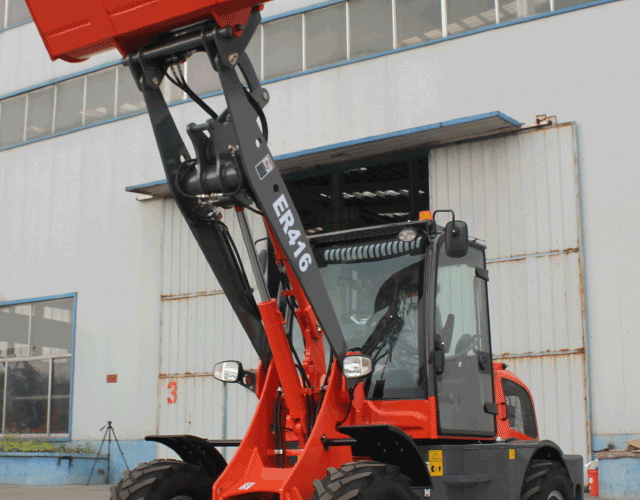 One strong lift cylinder
Everun always installs strong lift cylinder in all wheel loader models. This guarantees that the load distribution is always optimally transferred to the loading arm. In addition, the entire loading system gains stability. The size of the lift cylinder is adapted to the respective size of the machine.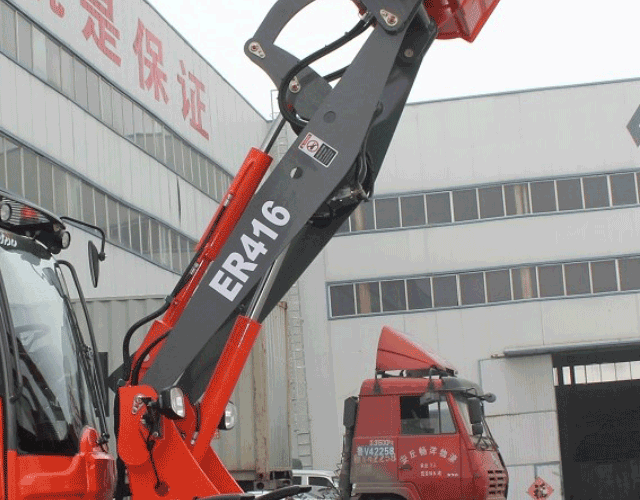 Hydraulic Parallel Linkage
Parallel Linkage ensure that the attachments are in a flat state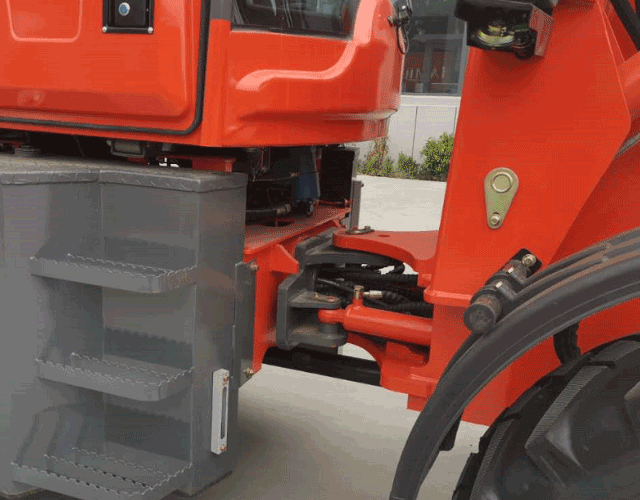 Stainless steel steering stops
At a full steering stop, the front and rear carriage of the machine touch. With Everun, this area is particularly well-protected by the stainless steel steering stops and there is no corrosion. This provides for value preservation!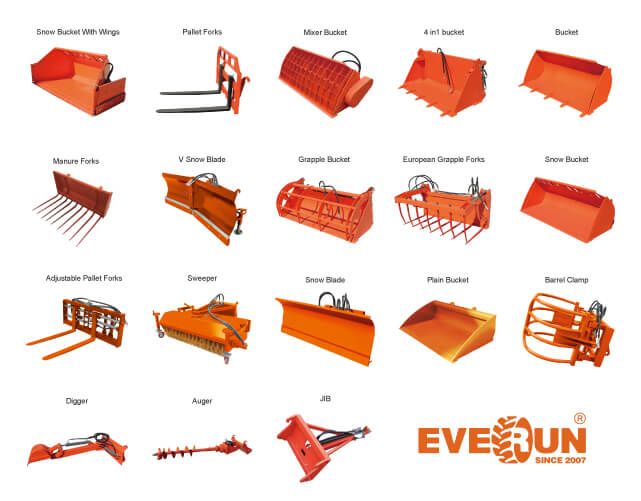 Large selection of attachments
Use your machine as a multi-tool: you have a wide selection of attachments available for your Everun.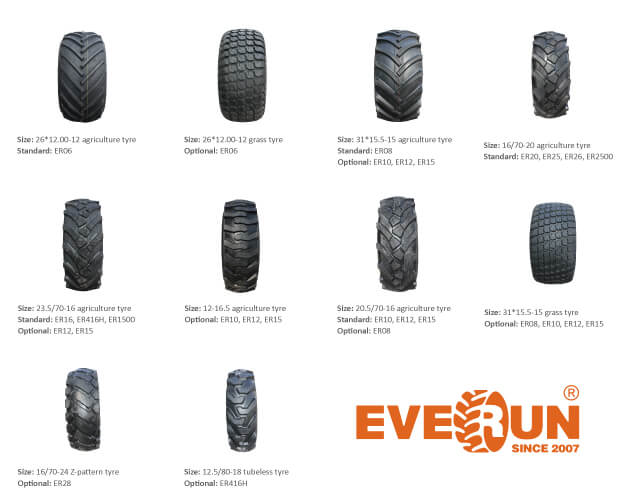 Large selection of tyres
The optimal tyres for every subgrade: you have a wide selection of different tyres available for your Everun.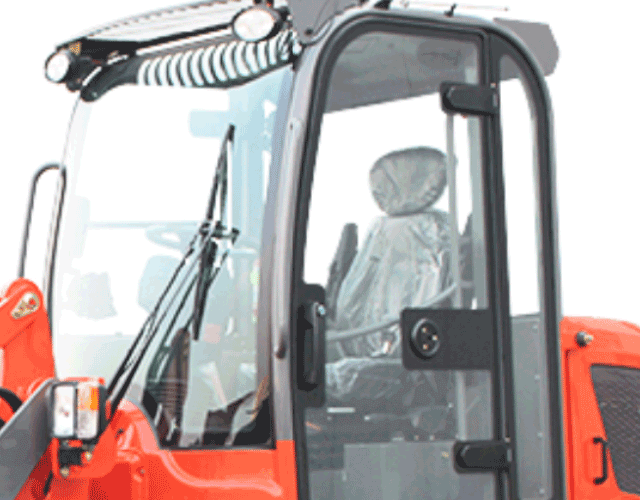 Rops&Fops Cabin
The patented cab can better protect the driver. There is a maintenance port on the floor for easy maintenance.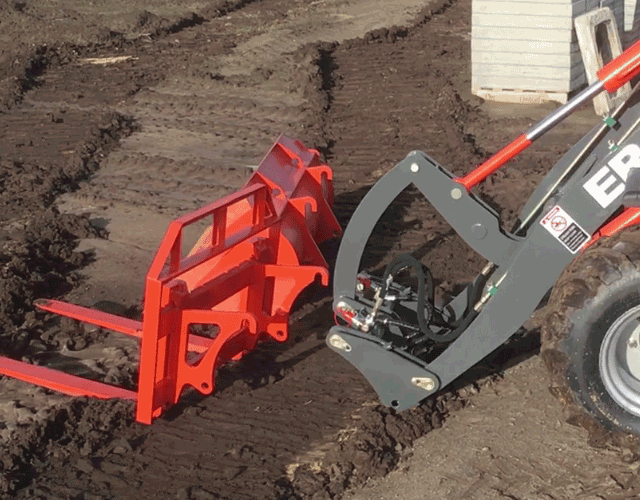 Quick and easy tool change
Thanks to the hydraulic quick-change system, attachments can be easily and conveniently exchanged. In this way, your machine is again ready for application at once. This increases productivity and profitability. The exchange of the tool takes place through 2-hand operation, which makes an unwanted change impossible — safety always comes first at Everun!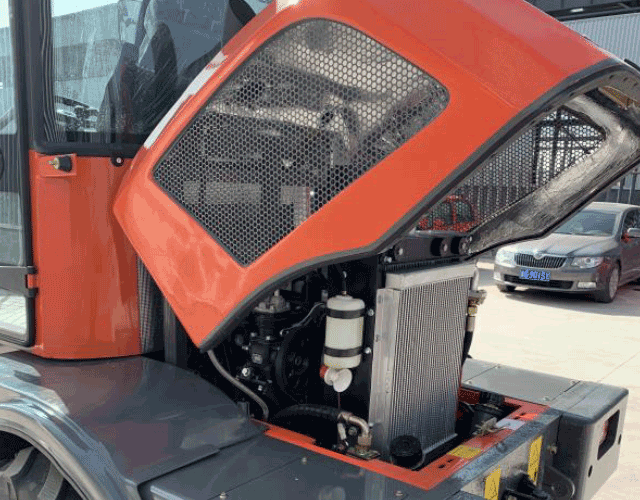 Easy-to-open engine hood
The driver's seat can be removed and the engine hood can be opened backward widely. This makes the engine, hydraulic system and electrical system easily accessible for our LP models.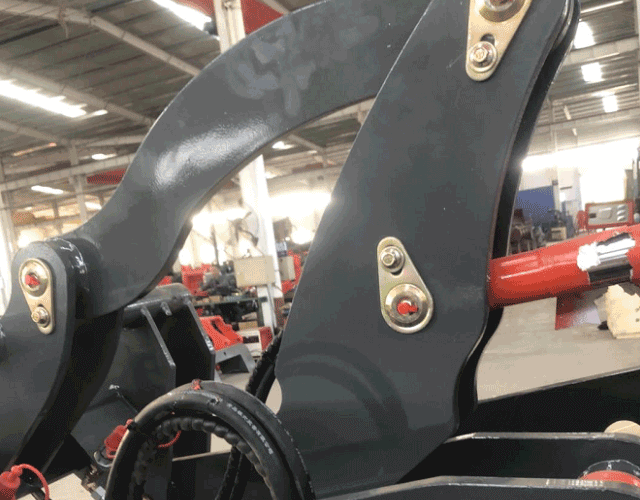 Easily accessible lubrication points
Regularly greasing all lubrication points of the machine is crucial for the proper and effective maintenance and therefore value retention of the machine. In order to save time and facilitate the work, the lubrication service points are always in an easily accessible position at Everun. Optionally, a central lubrication system is available that takes over the lubrication for you.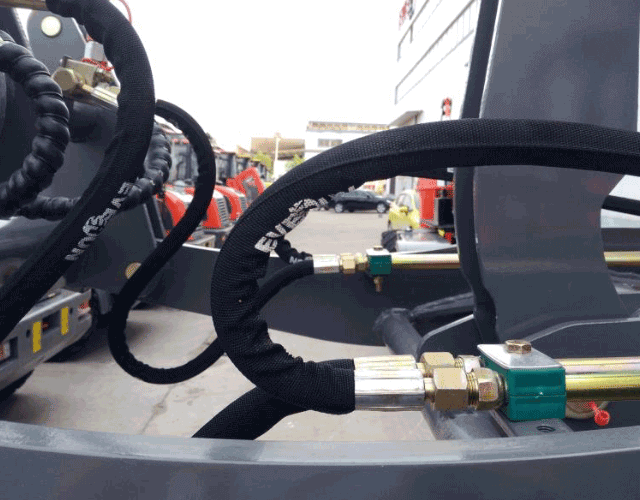 Short hydraulic hose lengths
Everun machines have short hydraulic hose lengths; the hoses are split in several places. If a hydraulic hose needs to be exchanged, the entire hose in the hydraulic circuit does not need to be exchanged, but rather just the affected part. This speeds up work enormously and saves money.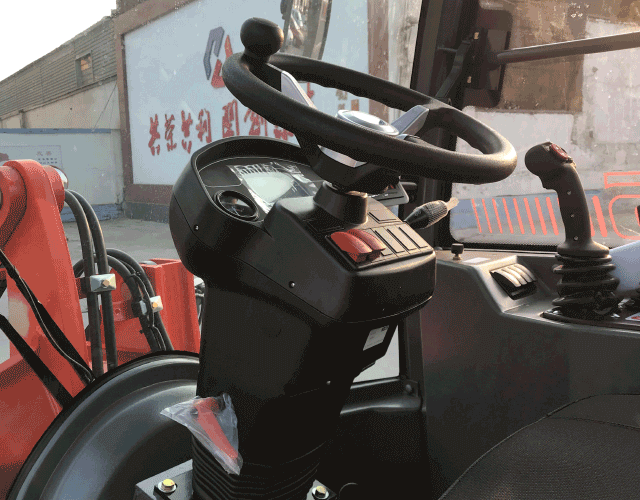 Adjustable steering column
The steering column can be individually adjusted according to the operator's request. This ensures that every operator can work with the machine ergonomically and fatigue-free.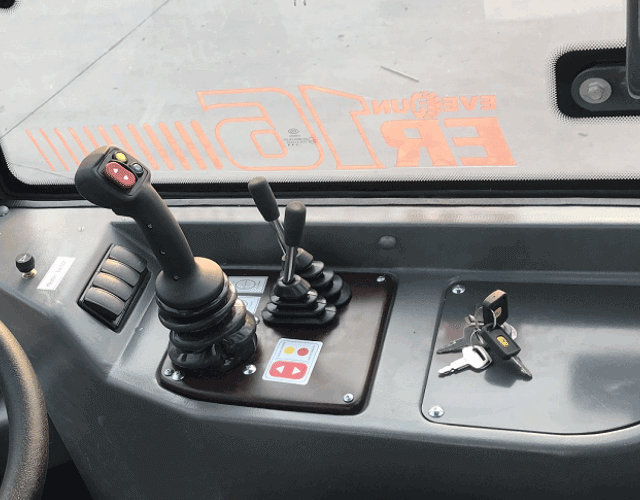 Ergonomic joystick
The joystick lies securely and comfortably in your hand. The control is sturdy and sensitive at the same time. In this way, you always have the machine and its key functions under control.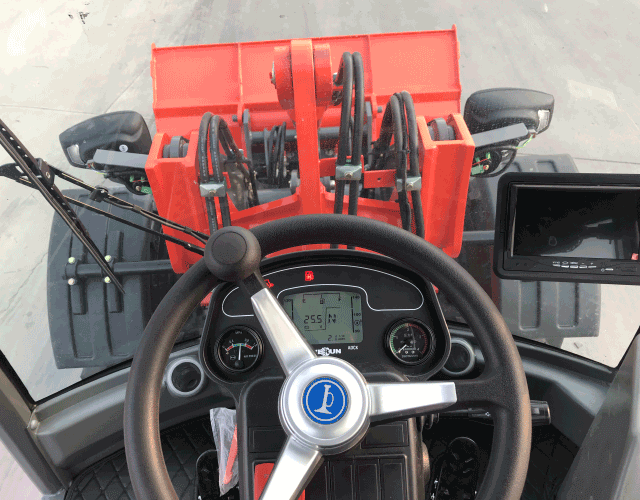 Good all-round visibility — ergonomic workplace
Plenty of legroom, clearly arranged instrument clusters, a comfortable operator's seat and an optimal visibility of the attachment. A working area that motivates and fully supports the operator.
Pleasant working environment
The working environment in the cabin is excellent, thanks to an efficiently working heating and ventilation system with a fan, fresh air filter and well-placed air nozzles. With the comfort cab, air conditioning is available as an option.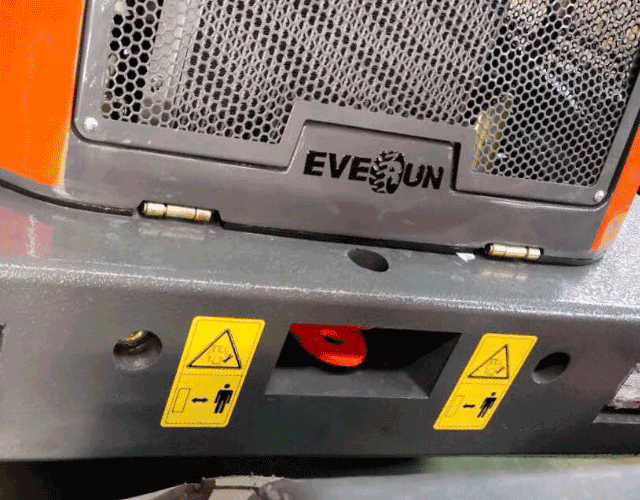 Vibration-damped working area
Vibrations and impacts are absorbed by the machine. Your body is very well-protected and you also work for a longer time, relaxed and fatigue-free, and are therefore simply more focused.
New exhaust emission standard stage V — new engine technology
At Everun, we have already completed stages I to IV for pollutant reduction in the past few years. However, new and stricter limits in level V and subsequent levels still need to be met. However, because we would like to adapt our machines to the new legal situation and continue to develop our machines, we have put a great deal of developmental work and know-how into the new machine types.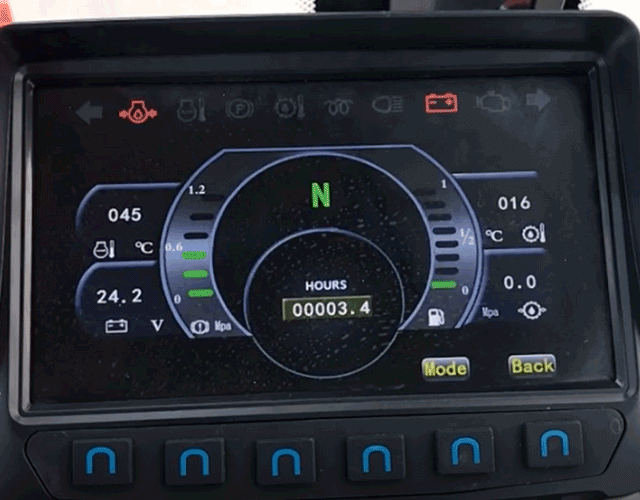 Digital display analytic system
With the digital display, you obtain an overview of your machine. In addition to standard displays like temperature, tank filling, or operating hours, active functions are also displayed in the cab, like activated electrical functions, the continuous operation of the 3rd control circuit. Using the Everun diagnostic. it is possible to quickly and clearly assess many functions, such as the driving function, telescopic functions, the 3rd and 4th control circuit, the engine data, as well as the electrical functions. Error messages in the display immediately notify the operator of possible failures and make a rapid response possible. Thanks to the exact designation of the error number, the dealer can come to the machine prepared and with the right spare parts. The subsequent error analysis by trained dealers simplifies further diagnosis and troubleshooting. This saves time, money and nerves.
Technical Parameters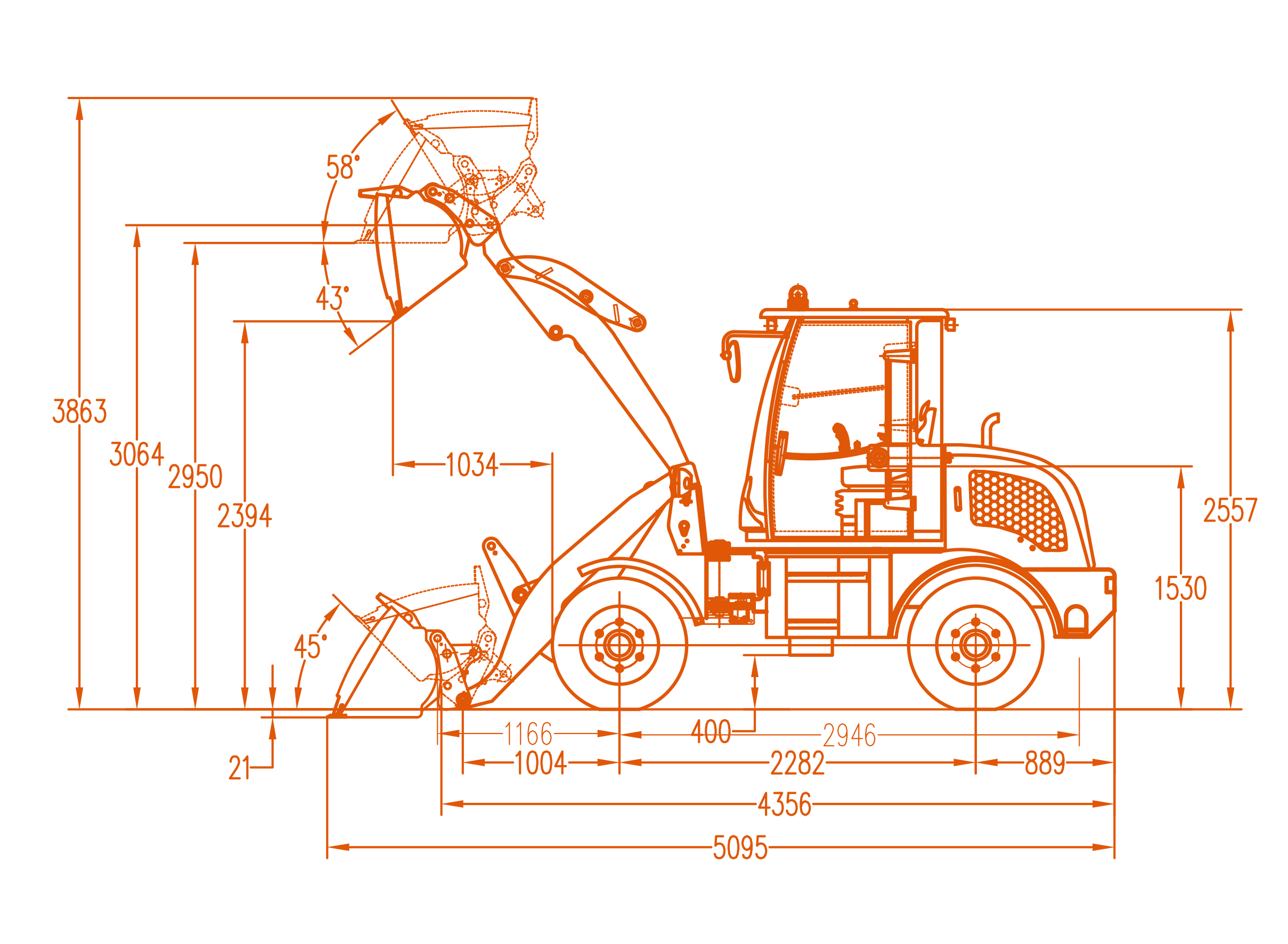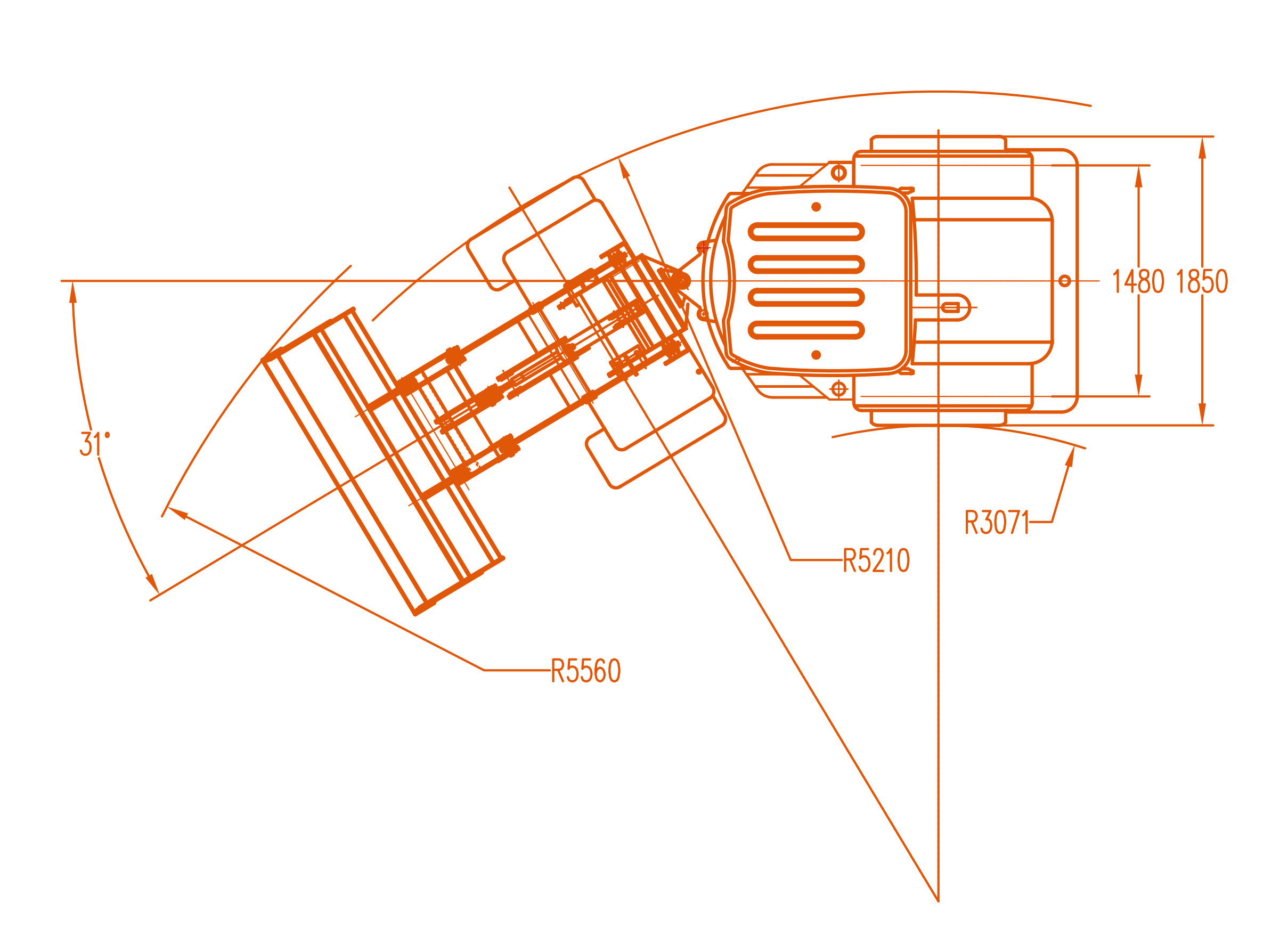 FEATURE
SIZE / DETAILS
| | |
| --- | --- |
| Engine Model | Xinchai 498 BT1 (Euro 3 Certificate) |
| Engine Type | In-line Arrangement, Water-cooled, Four-cycle Diesel Engine |
| Engine Rated Power | 36.8kw |
| Rated Speed | 2400 r/min(rpm) |
| Transmission Type | Fixed-spindle Power Shift |
| Shift Gear Control Oil pressure | 1.2-1.5 MPa |
| Bucket Capacity | 0.73m³ |
| Bucket Width | 2000mm |
| Bucket Type | Heavy-duty Bolt On Teeth |
| Max.Breakout Force | 28kN |
| Max. Tractive Force | 33kN |
| Loading Capacity | 1600kg |
| Net Weight | 4400kg |
| Overall Length(bucket on ground) | 2535mm |
| Max.Dumping Height | 2453mm |
| Max.Dumping Reach | 891mm |
| Min.Base To The Ground | 275mm |
| Overall Width | 1850mm |
| Steering System | Articulated Frame With Hydraulic Power Steering |
| Service Brake | Air-assist Hydraulic, Disc Brake |
| Tyre | 23.5/70-15 Agricultural Tires |
| Parking Brake | Hand Operated |
| Wheelbase | 1520mm |
| Track | 1500mm |

Get Your FREE Quote
We will contact you within 24 hours.